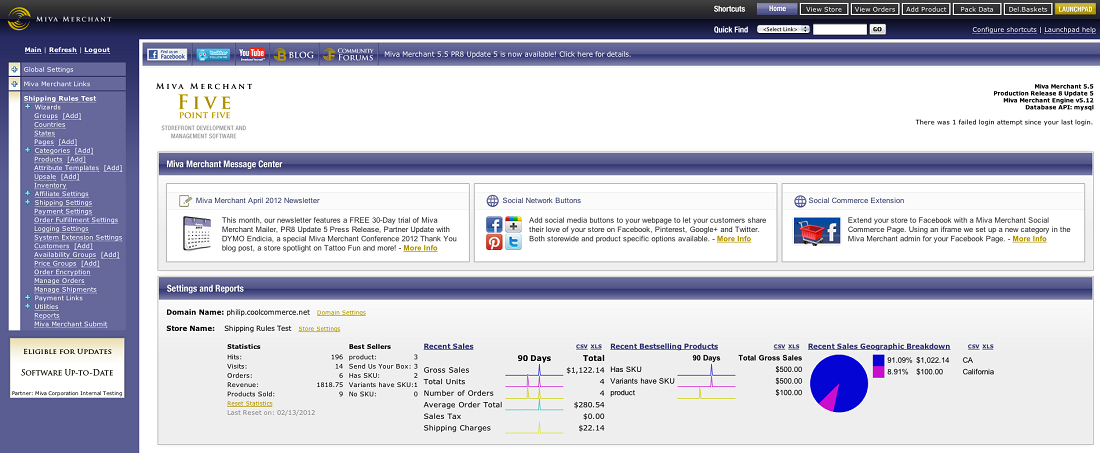 The main benefits of Miva Merchant are its tools and features provided for e-commerce application, user-friendly interface, beautiful presentation of products and services, and SEO optimized sites. Here are more details:
Robust e-commerce solution
Miva Merchant addresses most of the factors essential for a successful e-commerce website and it also lets users design the architecture of the platform in any way they prefer. Startups and large enterprises alike will find the system useful because of its high scalability. There will also be a lot less burden to the users when it comes to supporting and maintenance because data is being hosted by the providers. It can also retain customer accounts, which makes for faster transactions in the future. Meanwhile, the inventory feature enables users to view the status of their items' availability and notifications are sent whenever their stocks are running low.
User-friendly
Customers will find the users' sites to be responsive and flexible, allowing them to find the products they are looking for. The system is highly customizable giving users limitless options for tailoring their site to best suit their brands whether they're setting up a pharmacy, furniture shop, etc.
Engaging presentation
Miva Merchant understands that presentation is a key factor to success, which is why it offers various attractive themes for its users that enable them to display an unlimited number of products. Products can either be shown in a visual library or in tabs. Product bundles can also be created while doing all the price management.
SEO-friendly
To help ensure that the user's site appears on search results, keyword-based indexing and SEO solutions are utilized by the system. Miva Merchant also focuses on using clean URLs, which helps promote backlinks from other web pages. This helps their sites stay ahead in the competition.