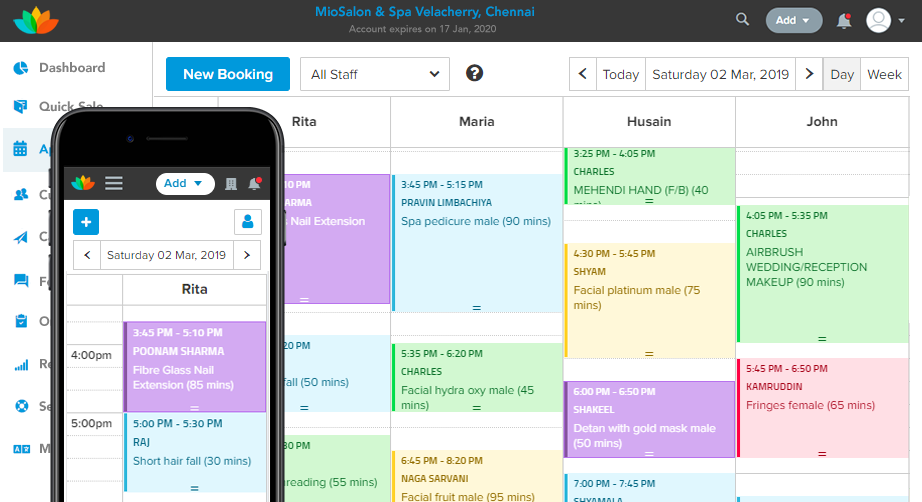 The main benefits of MioSalon are streamlined appointment scheduling, integrated POS, automated marketing, and detailed business performance insights. Here are more details:
Easy Appointment Scheduling
MioSalon has a booking engine that interested customers can use to book their appointments at their convenience. This widget incorporates a calendar that shows available times. This also enables customers to change their bookings at any time by themselves on their preferred devices.
Not only is this helpful to your customers, but this is also beneficial to your receptionist as well. Plus, this aids you in avoiding overbooking, which can lead to lost opportunities for sales.
Integrated Point of Sale
MioSalon comes with a built-in POS that lets you provide a next-level experience to your clients. This accelerates check out, thus, reducing the time spent by your customers at the queue. What's more, the POS module is capable of accepting multiple modes of payment, letting you offer expediency to patrons.
Hands-Off Marketing
Devise strategic and targeted promotions that you can send automatically to customers with MioSalon. This ensures that you send the best offers to your audience segments and keeps them engaged once they have left your premises. You can also take this opportunity to have a personalized approach, especially by sending them birthday greetings with attached coupons.
Business Performance Insights
Knowing how well your business is doing in the current climate is integral in creating better marketing approaches and other critical decisions. That is why MioSalon keeps you apprised of your business's performance through real-time analytics and well-arranged reports. You can see your current sales, individual staff performance, and revenue and taxes paid. This module is complemented by the bookkeeping component, which allows you to ensure that you stay in the black even as you continue offering high-quality services.