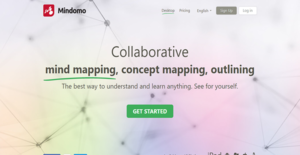 The main benefits of Mindomo are easily mapping ideas, accessing the application on mobile devices, and recording each change made. Here is more information:
Maps Presentation
For students, concepts become easier to track, as they can map out their ideas on the application directly. It is also easy to use as they can just go to presentation mode with just a simple click. Then, they can interact with the diagrams to show how their ideas have developed.
Mobile Applications
With Mindomo, you don't have to depend on web browsers or desktop applications to build your own mindmap. It can be integrated with your mobile device and it has an almost similar interface to that of a full-screen desktop. The software has a native mobile app for Android and iPad that can be also be used offline.
Full Change Audit
Mindomo record every change in the mind map in order for you to take into account the detailed history of a map's inception including media and other necessary information. With this feature, you as a teacher can see the progress of your students at a distance and provide them assistance if needed.
Web Image Search
Images can be added to the app to add more appeal and additional info about the topic. Users can just search the web for images and put them on the diagrams with a click.
Multimedia Notes
As a teacher, you can also add multimedia notes to the map like videos or audio file for better communication. Through this feature, students can enhance their map presentation with multimedia images to augment their concepts.
Mind Map Templates
For beginners, map templates are also available for them to use so that they can begin to familiarize themselves with the program's operations and also save time.