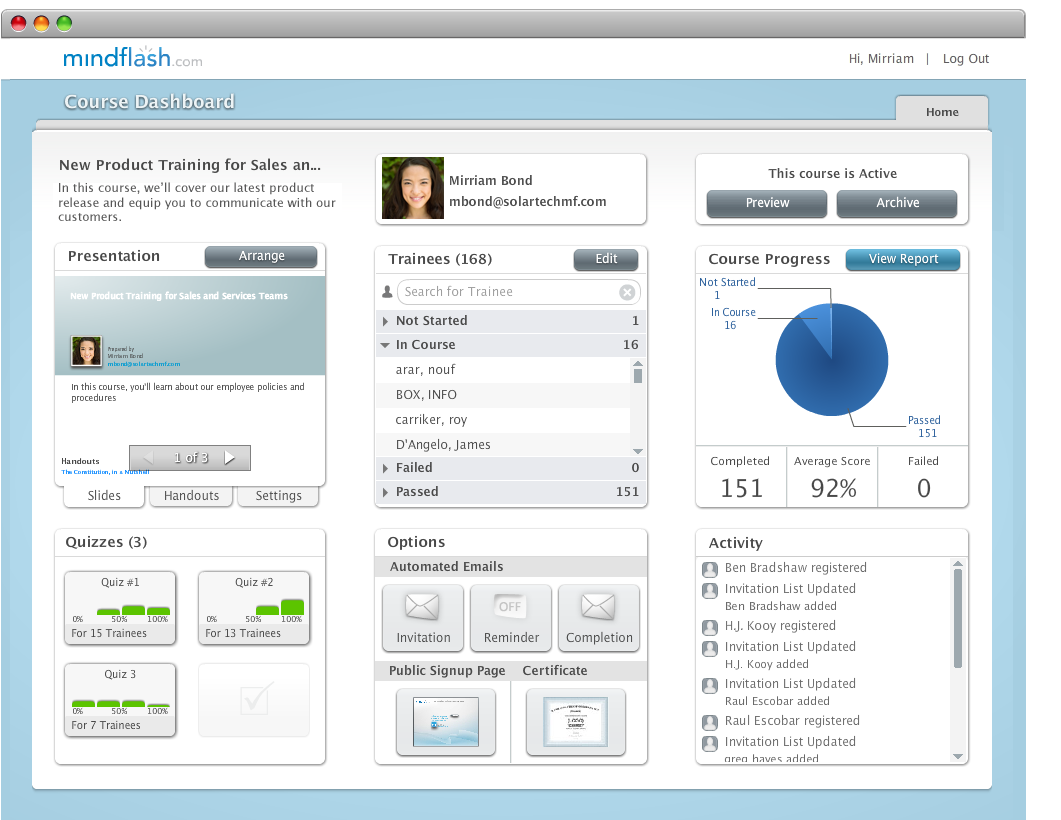 The main benefits of Mindflash are its capabilities that make the process of creating courses easier and faster, comprehensive features, learner progress tracking capability, the ability to modify live courses and manage big-scale training programs. Here are more details:
Ease of Creating Courses
Mindflash empowers its users to create online courses promptly, in a breeze. All you have to do is upload your existing learning files and leave to the software the process of converting them into an online course. The platform supports various file types including MP3s, YouTube videos, SCRM, PowerPoint presentations, and more. Since this solution is cloud-based, learners can access the courses wherever they are as long as they have an internet-enabled device.
Comprehensive Platform
Mindflash comes with a broad array of functionalities and tools that covers the process of creating and managing training programs. Simple templates are available which can be used to add questions to the course. It takes care of grading and course-level reports which tell you which learners are ready and which ones need follow-up training. The software also delivers results to your learners.
Learner Progress Tracking Capability
Another incredible feature of Mindflash is its capability to track the progress of learners in real-time through the aid of its automated quiz scoring tool. Also, you can categorize learners into groups according to the level or type of training they need, easily create quizzes tailored for each learner, and monitor results across the groups without breaking a sweat.
Modify Live Courses
The software also helps you ensure that the courses remain updated. You do not need to start from scratch. All you have to do is go to your existing course and make the needed changes. Afterward, all trainees will have access to an up-to-date course.
Manage Big-Scale Training Programs
Last but not least, the platform can also help you manage huge-scale training programs. You can group your programs in categories such as "missed deadlines". The platform also offers reporting tools that you can use to generate reports by group, course, quiz, question, or learner. Customer support, content support, branded training, and mobile management are also available. The software also offers integration with Salesforce, which extends the platform's capabilities.