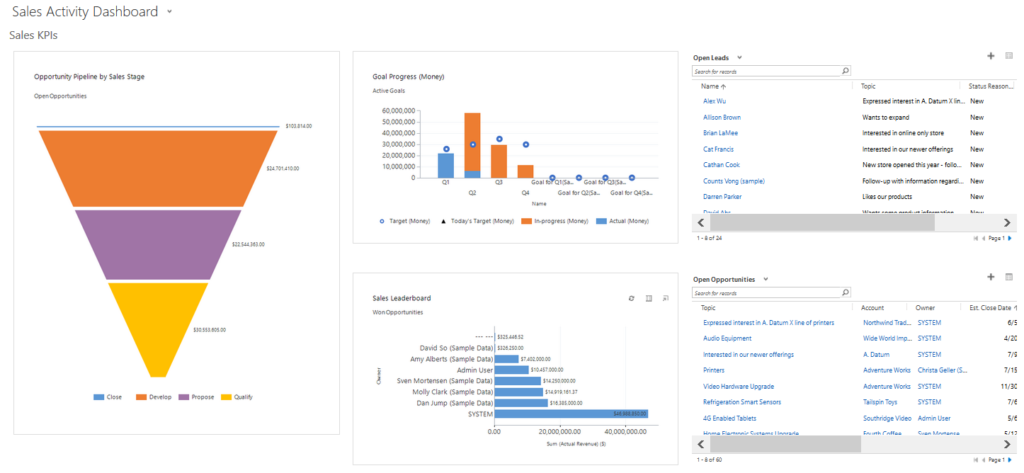 The main benefits of Microsoft Dynamics 365 are its mobile support, comprehensive feature set and scalability. Here are the benefits in details:
Microsoft Dynamics 365 is a repackaged software developed from Dynamics CRM Online tool and eventually broken down into individual applications. What makes the software unique is that in a single cloud service, ERP Dynamics and CRM solutions are combined. You can also do some customization in Microsoft Dynamics using Flow and PowerApps. You can create mobile applications with PowerApps while the Flow workflow engine can be used to connect applications from third-party providers.
Microsoft Dynamics 365 consists of integrated tools that enable companies to perform tasks such as field service automation, sales growth, improvement of mobile device operations, lead tracking, and enhancement of various cloud-based business apps. The product offers a variety of features that can improve your sales, customer service, and overall business engagements. These tools can be used as a complete suite or individually.
The product has a wide range of apps for Android, Windows Phone, and iOS devices. These can be used offline so that you can continue your work even if there is no Internet connection, but data is automatically synchronized once the connection is restored.
Microsoft Dynamics 365 integrates seamlessly with OneNote, Word, SharePoint, and other Microsoft applications. With these integrations, you can reduce dual entry and save time. Collaboration is also encouraged as the integration of the Yammer solution provides dynamic interaction among its users and enables people to participate in meetings and projects. Users can also work on and view documents in real-time.
The mobile app of Microsoft Dynamics 365 has been improved to provide you with a platform to do some personal customization that would help you complete tasks quickly. It shows a list of priorities so that users will be reminded of the important tasks to be completed. The dashboard is visually presentable and optimized for minimal scrolling. The software allows you also to create notes inside forms, giving you a chance to see vital details while taking notes. You can also integrate your device with the app, which provides it with access to your device's camera and other features.
To provide service to your organization using a predictive service model, the Microsoft Dynamics 365 features a linked field service that aims to monitor and do predictive maintenance via coaching.
The app's feature reduces downtime as well as the automatic warnings from all devices. Remote device tracking is also possible with the feature and customers are always aware of it. You can also optimize resource scheduling using the software. This can be done by developing a specific solution to schedule several items regularly automatically.
This reduces travel time while allowing you to make more efficient use of planned resources. Optimizing resource planning allows you to take into account obstacles and goals that include time windows as well as the skills that are required.