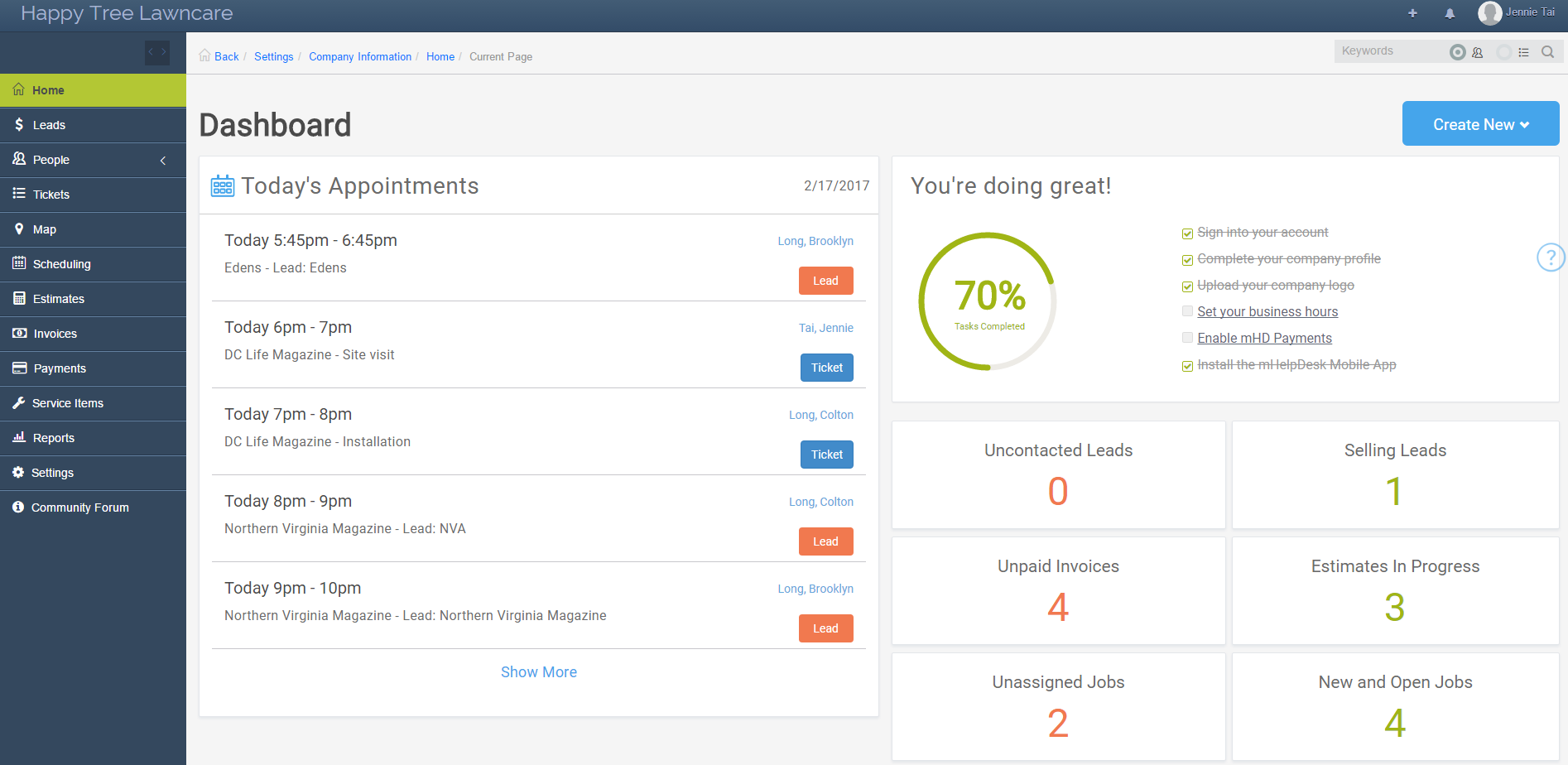 The main benefits of mHelpDesk are its built-in CRM features, robust automation capabilities, customer-centric design, mobile-readiness, and topnotch customer support. Here are more details:
Native CRM Integration
mHelpDesk is packaged with CRM tools that aid users in tracking and managing leads. It offers an auto-response and instant alert system so that they can quickly respond to potential clients. They can also focus on hot leads, share information between service and sales teams, quickly make and send estimates, put customer communication on autopilot, and significantly improve win rates.
Powerful Automation
The solution is created around a robust automation engine that eliminates most of the paperwork and manual processes. It is capable of automating redundant tasks such as status updates, job assignments, note-sharing, team and customer communication, scheduling, billing, etc. Through automation, processes are more cost-effective and efficient. It also minimizes human errors and manual interventions. Aside from those, worker productivity is enhanced as well since most of the time, they are doing their core tasks instead of being immersed in repetitive admin matters.
Customer-First Design
mHelpDesk's design is centered on delivering the best experience for customers and it provides users with tools exactly for that purpose. The platform has a virtual cabinet for storing and organizing customer records, such as profiles, service history, billing, and active jobs. All these records can be easily shared and accessed both at the office and on the field. Users are also treated with consolidation and automation of customer communication via the integrated messaging system, SMS alerts, communication logs, and auto email. With this, customers are always aware of the status of the service being rendered to them.
Mobile-Ready
Two of the essentials in field service management is mobility and communication. mHelpDesk takes care of those areas through its native Android and iOS apps where users can access email, text, or web solutions of their field people. It also allows them to do scheduling and estimates regardless of time and place. It makes sure that everybody is synced, coordinated, and connected at all times. With these mobile apps, users and their teams can be completely productive regardless if they're on-site or at the office.
Reliable Support
mHelpDesk is known for its topnotch customer support whom users can communicate with through live chat or toll-free phone. The customer service teams can provide them with assistance and answers to their queries about how they can utilize the product for their business. There are also success coaches available who can serve as a guide for users. The coaches can aid them in knowing more about the product, from onboarding all the way to implementation. Aside from that, there are live webinars and training videos as well that teach the basics of mHelpDesk, its features, and the best practices.