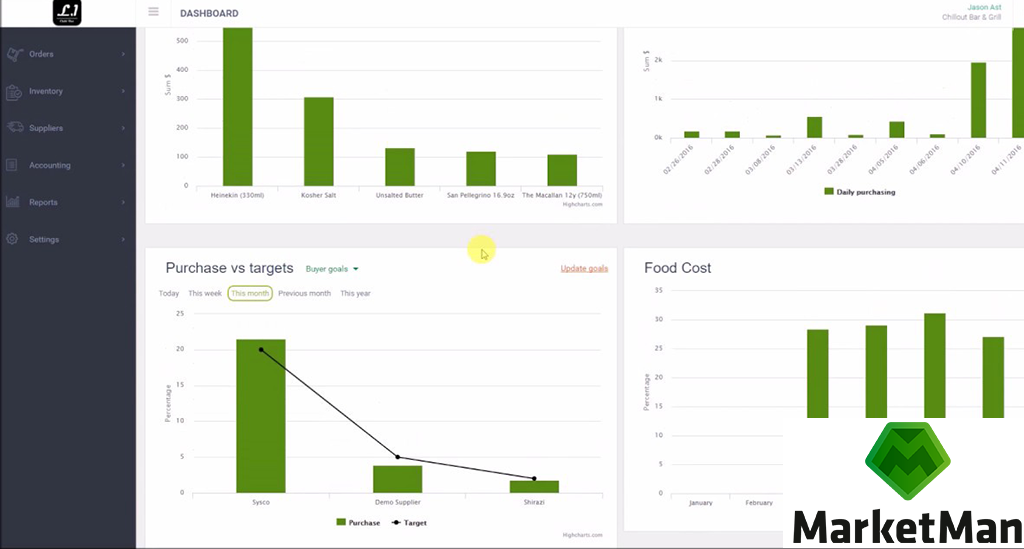 The main benefits of MarketMan are its simplified purchasing, paperless ordering, and inventory control. Here are the specifics:
Simplified Purchasing
MarketMan automates the overall ordering process, placing your orders with your suppliers automatically as you run your business and eliminating the need for manual data entry, phone call, or fax sending.
Paperless and Mobile Ordering
You don't need to always be in your office to place orders. With MarketMan's mobile capability, you can complete the ordering process easily and quickly with a single click.
Inventory Control
MarketMan lets you know what is in your inventory so you can set budget and limits for it. It offers accurate data that helps simplify the process and enables you to see expenses in real-time.
Automated Notifications
You can set MarketMan to send you notifications when your inventory has critical marks. Its dashboard presents a real-time view of actionable insights so you can improve supply and inventory handling.
Facilitated Task Delegation
You can visualize the ordering process with MarketMan. It helps you give managers and team members specific roles and permissions in placing orders. This way, you can oversee their work around the clock and easily prevent potential fraud. The automated ordering capability of the system also made it possible for you not to commit mistakes.
Budget Management
You can set limits and budget for purchases through MarketMan so you can retain control over your finances. You will be given a clear overview of how much you spend and you can receive alerts on any credits, shorts, subs, and billing irregularities.
Improved Sales
MarketMan can transform simple customer interactions into sales possibilities. It helps reduce the time consumed for ordering and shortens the sales cycle so you can boost productivity. Also, it helps you control your product and brand catalog and produce reports so you can come up with smarter business decisions.