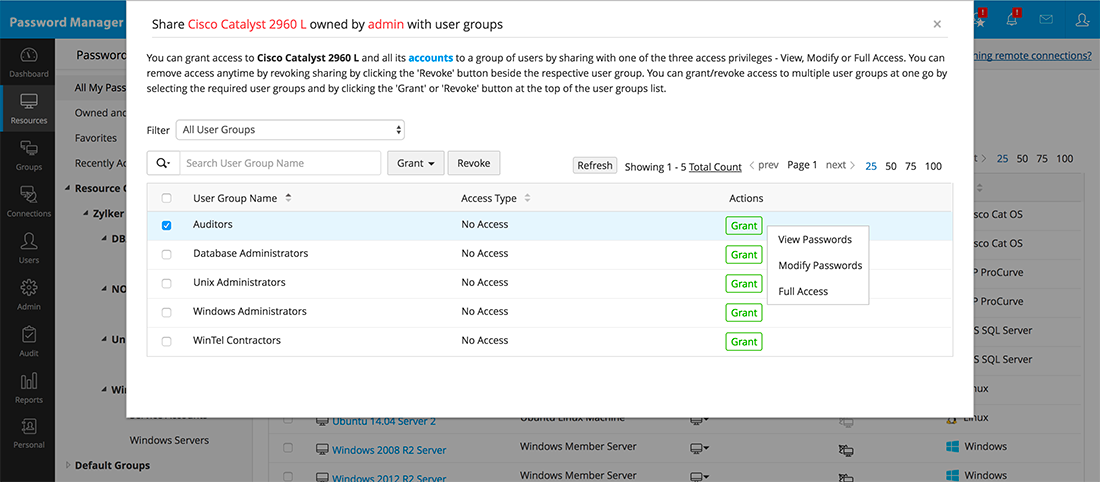 The main benefits of ManageEngine Password Manager Pro are its capability to manage privileged accounts, features for controlling remote access, and functions for effectively handling privileged sessions. Here are more details:
Privileged Accounts Management
ManageEngine Password Manager Pro joins together every privileged user account in one location. Each account is encrypted for security purposes. The system also observes the best practices in password management so that users' data are safe from external threats. Moreover, IT assets are discovered automatically by the system. Also, users can share their passwords safely to relevant parties.
Remote Access Control
Through any remote device, users are able to access their accounts even if they're housed outside the servers. And thanks to it being centralized, password management is a lot easier because users won't have to constantly reenter their credentials. Every login is verified automatically, providing admins the capability to easily access the resources.
Privileged Sessions Management
ManageEngine Password Manager Pro provides users with the capability to closely monitor and control all privilege sessions, allowing them to track user activities. The system can also record sessions which is a handy feature for audits. Furthermore, the system offers a dual control functionality which produces shadow session, capable of being stopped in real-time. There are also archived videos that can be played any time needed which reveals the information of privileged sessions.