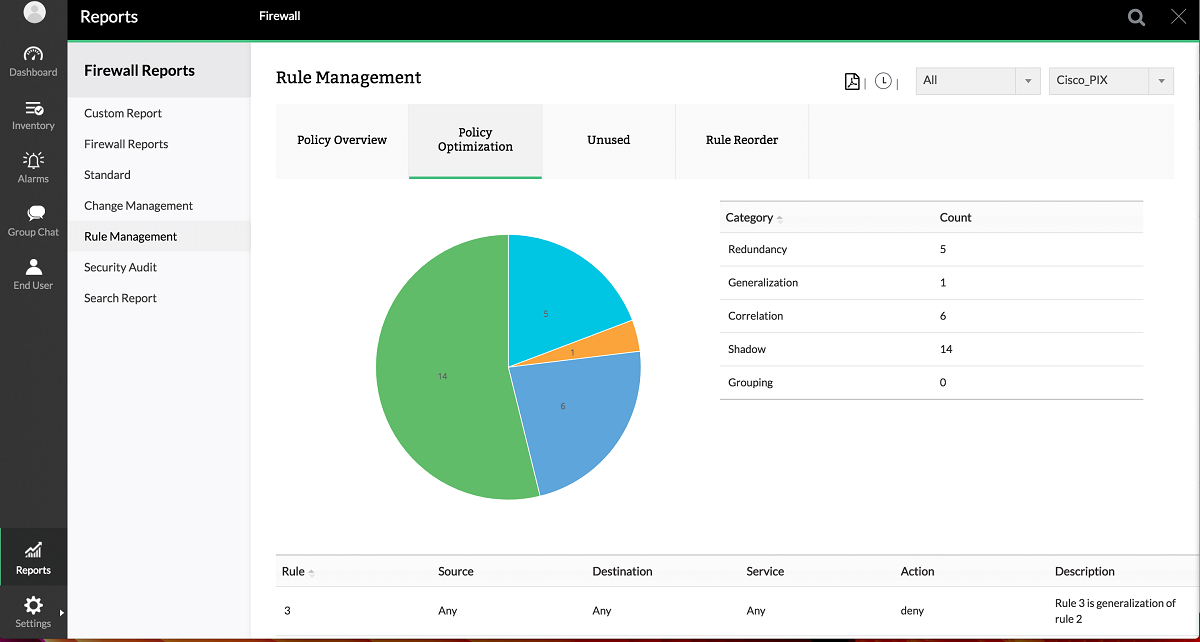 The main benefits of ManageEngine Firewall Analyzer are its reliable alerts and notifications, bandwidth monitoring feature, comprehensive security reports, and various value-added functionalities. Learn more of its advantages below.
Alerts and Notifications
One of the most important features of ManageEngine Firewall Analyzer is its security breach and unfamiliar traffic notification system. These alerts come in different forms such as email, SMS, or as a tool that initials the same actions. If you have limited bandwidth, the solution also alerts you when you reach a certain point in your bandwidth usage. This allows you to identify where the source of bandwidth traffic is and you can also have the option to set the criteria for your own preference.
Bandwidth Monitoring
Security service providers can monitor their internet traffic in real time and collect traffic data in every kind of firewall system. With live traffic reports in graph and table formats, you can see the incoming and outgoing traffic from last year, last month, a week and within the day. This gives you the information for your maximum, minimum, and average speeds.
Firewall Bandwidth/Network Security Reports
You can also gain an in-depth understanding of the workings of network security and bandwidth with the reports based on your firewall logs. These include details about traffic, security, trends, device management, and a firewall.
Firewall Compliance
With ManageEngine Firewall Analyzer, users are ensured that regulations like ISO 27001, NERC-CIP, PCI-DSS, and SANS are followed. The system also monitors the latest updates in the rules for further compliance in your end. All requirements that are relevant to network control indicated as address translations, objects, ACLs, firewall rules, and interfaces are reviewed. You can also customize your false positive filtering criteria so that you can establish your own security rules.
Firewall Policy Monitoring
With an analysis solution, you can manage traffic your traffic between the Internet and LAN, they are also notified about their bandwidth usage in their end for them to monitor their usage. The feature makes certain that operations run smoothly even as it blocks anomalous and malicious traffic. Overall, the system creates a report for users to follow traffic regulations.
Managed Firewall Services
With a single dashboard, you can manage your firewall. From the same place, you can perform tasks such as data collection, analysis, and reporting. With this available data, you can audit your traffic, measure your bandwidth use, and monitor your system operations. The system also features user-specific firewalls with access-based control, which enables administrators to assign firewalls to users in the network.
Value-added Features 
ManageEngine Firewall Analyzer also offers value-added features for you to customize your interface and reap you more benefits. One of these is the Diagnose Live Connection feature that monitors the ongoing connections in your firewall, which are then recorded and analyzed. The system can display up to 1,000 random connections but can also filter them according to your criteria in order to lessen the visual noise and emphasize the much-needed information.