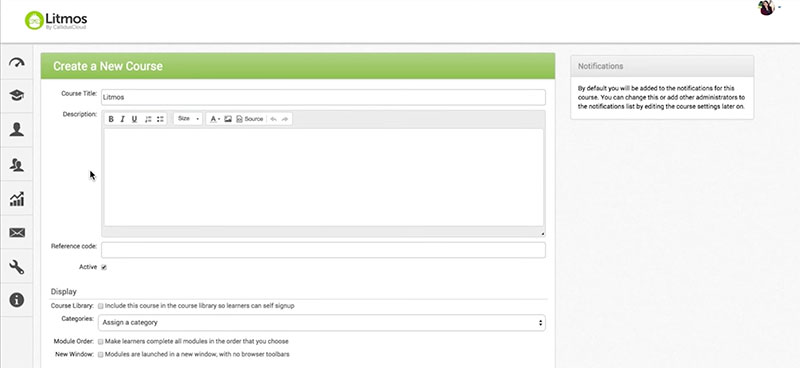 Integrating Litmos with your software system offers a range of benefits for your team and your clients. To start, you will find it easy to deploy this solution as you can get it up and running in just a few minutes. The intuitive interface is simple to understand and easy to navigate, which allows you to create courses quickly. The affordable pricing packages and range of integrations further add to the productivity of this LMS.
Ahead of the competition
Among the many advantages we cite in our Litmos LMS reviews is that it is backed by the reputation of its parent company and the vendor ensures the product keeps up to date with the latest trends in the industry. As a result, it offers advanced features to improve the quality of training you provide to learners regardless of the content type you use.
Easy course creation and effective trainee interaction
Creating course libraries can be difficult when working on complex and dull subject matters. Litmos helps in this case as it offers a gamification vibe, and makes it less time-consuming for administrators. To start, you can import files from Dropbox and Box accounts, or drag-and-drop from the local database. Plus, you will find it easy to use solution's WYSIWYG editor to create new files.
The type and format don't matter as Litmos supports even SCORM and Tin Can. On top of that, you can use video materials without worries as this LMS effortlessly supports large files.
After creation, all modules are arranged in alphabetical order, which makes them easy to find. You can also search for them using filter data such as dates, keywords, course/content types, and categories. Plus, admins can easily transfer all their lectures and assessments from one course to another, and they can evaluate achievements utilizing the same method. For this purpose, Litmos LMS offers an exam timer, and a range of constraints and hints to inform learners about their progress.
You can check out this Litmos LMS review for more details on what the software can offer you.