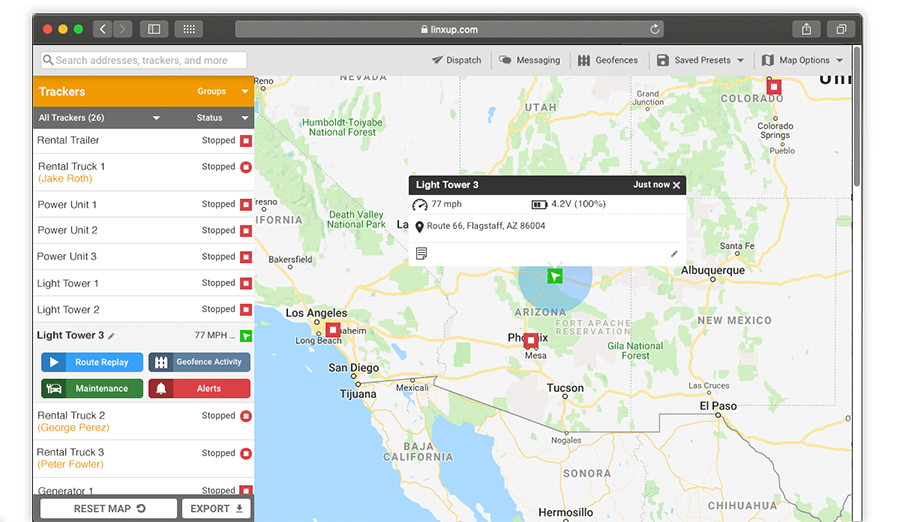 The main benefits of Linxup GPS Tracking are the reduced fuel expenses, improvement in the employee's behavior on the road, decreased cost in insurance, and enhanced services provided to users. Here are more details:
Reduction in Fuel Expenses
Fuel prices have been going up lately which makes it more important to get the best out of them. Using Linxup GPS Tracking, businesses can generate reports that allow them to reduce fuel expenditure. It even tells business owners as well as dispatch managers which of their drivers spend a lot of time idling and the drivers closest to a destination. The system also shows them vehicle mileage, real-time locations, and more.
Better Driving Behavior
The solution tells the dispatch managers the location of a vehicle or asset is at a certain time. Thanks to this, they can determine how bad or well their employee is behaving on the road. Linxup GPS Tracking helps companies in ensuring that their drivers are complying with the proper rules and regulation that help keep their safety. It provides them activity reports such as idling times and speed tracking.
Less Insurance Cost
Linxup GPS Tracking helps customers in reducing their expenditure on vehicle insurance because the tracker allows companies to better monitor the driving behavior of their employees. This allows them to take actions in improving road safety for their workers resulting in reduced instances of insurance claims. Furthermore, businesses can minimize insurance expenses since vehicle theft can be prevented as well. This is done by per-minute location report feature offered by the tracker so that dispatch managers are aware if there are any route deviations or odd driving behaviors occurring.
Enhanced Service
The benefits gained from using Linxup GPS Tracking isn't just enjoyed by the companies utilizing it but also by the customers themselves. That's because response time is accelerated since the best route to take is determined and companies can decide the ideal vehicle to dispatch given the current traffic volumes.