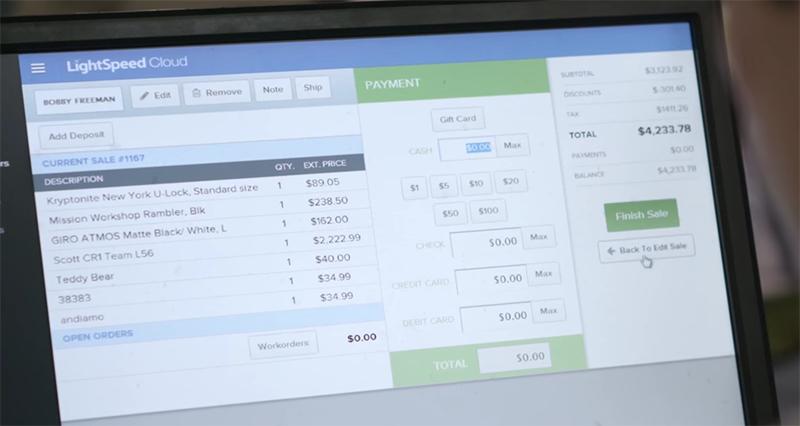 The main benefits of Lightspeed Retail are it simplifies inventory management, generates insightful reports, provides essential POS tools, and seamless management system. Lightspeed Retail makes inventory management processes simpler and faster, from purchasing goods to moving products to monitoring stock and more. You can generate customizable detailed data reports and high-level sales reports to get valuable information and insights based on which you can make smart business decisions.
One of the benefits we consistently note in our Lightspeed Retail reviews is that its Onsite offers all the tools necessary to perform POS operations including quoting, invoicing, and ordering. The app provides you the features you need to assist your customers in every step of the sales cycle. Key features include product creation, appointment scheduling, and time-billing capabilities.
Switching from management to sales is seamless and easy. Lightspeed Onsite enables you to collect customer information and profile them accordingly. The app also provides customizing options; companies can personalize the way they capture and track data which can help them make intelligent decisions and look at their business from new angles.
Lightspeed Retail can run on any Mac or iOS device. Plus, you can get additional hardware such as cash drawers, receipt printers, and barcode scanners to boost the infrastructure of your retail business.
You can check out this Lightspeed Retail review for more details on what the software can offer you.