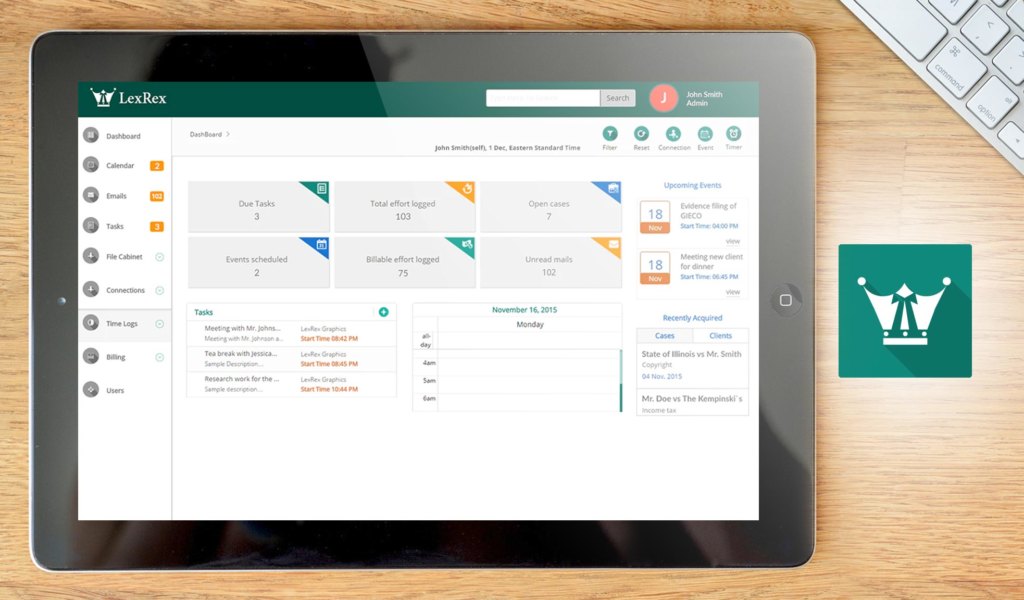 The main benefits of LexRex are its ability to organize client information, its customization options, and its time log feature. Here are the details:
When the law offices choose to use LexRex, they get help in these four processes: payment and billing, time recording, case management, and client management.
Managing clients with LexRex is a breeze since the solution eases the task of organizing client information and lets users access that information anytime they need to. Multiple types of client communications, whether they are phone calls, invoices, letters, or emails, can be stored using LexRex. Clients can make use of a portal made for them to upload case fails and other important documents. This portal can also be used for online payments as well as the delivery of invoices.
Expenses, tasks, calls, emails, documents, meetings, and other important details can be viewed from a single dashboard. Law offices will also appreciate the customization that LexRex provides, as it allows case files to be organized via fields that the law firms dictate, such as preferred working environment, practice area, and the like. Case progress can also be tracked thanks to a timeline LexRex provides.
Law practitioners can also make sure they are properly compensated, thanks to LexRex, as the solution takes note of the time spent on activities that are related to work, whether it is a client phone call, a meeting, or simply time spent performing a task.
Different billing schemes can also be applied with LexRex: contingency, the fee per activity, flat case fee, and hourly billing. Law offices can also make sure that their invoices look professional, and even incorporate elements of their own brand.