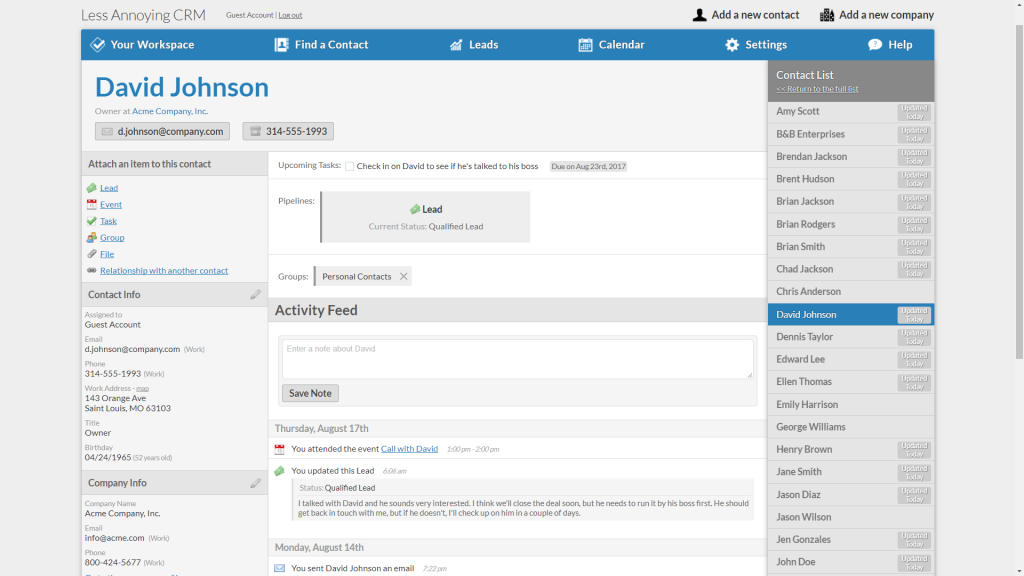 The main benefits of Less Annoying CRM are its user-friendly interface, its cloud location, and its display. Here are more details of its benefits:
Users who haven't decided on getting Less Annoying CRM can get its 30-day free trial offer to see if the tool meets all of their needs and requirements. Once bought, users don't need to worry about any updates or maintenance as it is all handled by the vendor.
All the data on contacts are neatly organized and can be accessed with a minimum of fuss, thanks to the user-friendly interface. A secure and centralized cloud location holds all of the communication with contacts, as well as their information. This could include updates, notes, and emails.
Determining which leads should be prioritized and followed through is easy with Less Annoying CRM as it tracks every lead whatever stage it may be. Aside from CRM functions, it displays a summary of all activities and lets users quickly see information on the status of tasks, leads, and activities. There is also an activity feed that users can look at to keep track of events.