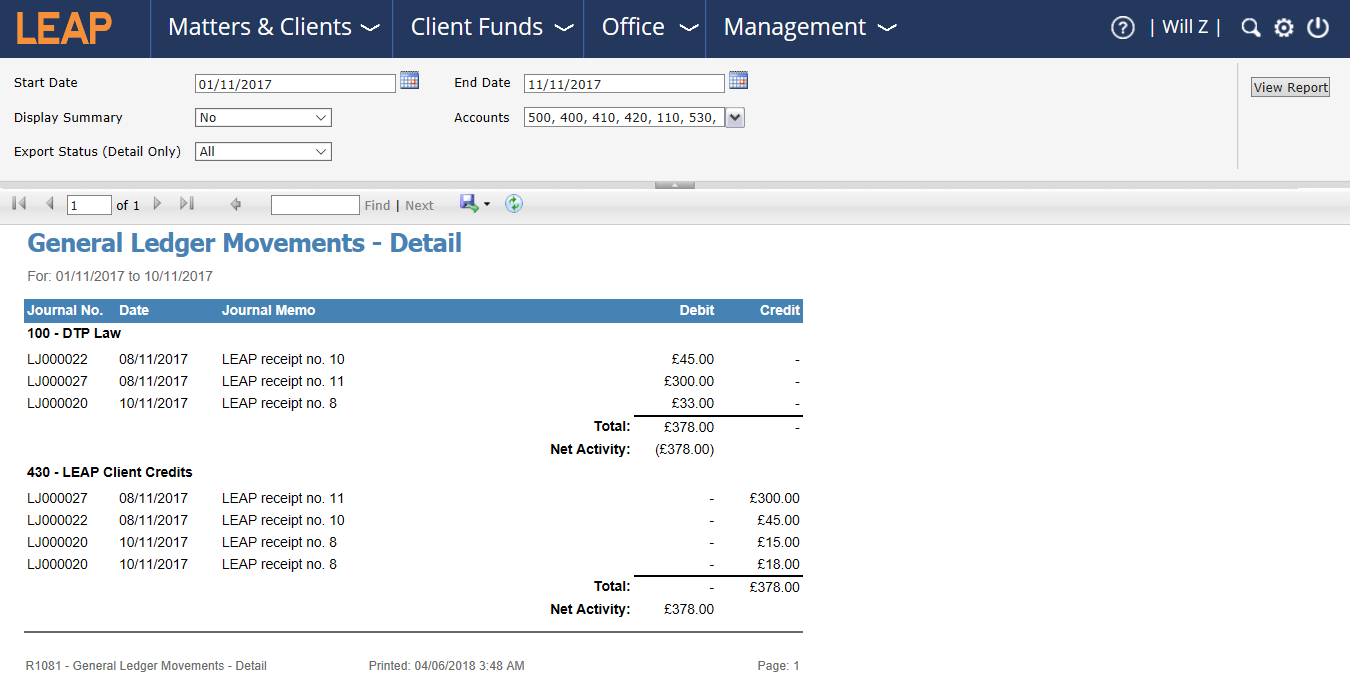 The main benefits of LEAP are improving productivity, supporting law and accounting capabilities, and offering comprehensive modules. Learn more of its advantages below:
Productivity
LEAP enables practitioners to automate their daily tasks efficiently. Features such as document creation, matter management, file import and export, and editing tools help boost user productivity. This is especially so as all of such are under one platform. This cuts consumption time and average expenses at reported figures of as much as 30%. LEAP offers forms and templates that users can use to access and edit their legal documents. Custom fields can also be added to a regular Word document. Furthermore, users can directly email or print their files from the system. This is via its free and secure LawConnect portal that has no file size limitations. LEAP thus supports personalize sharing. For now, LEAP is the only legal practice management system that is integrated with Outlook and Microsoft Office.
Community
Once one becomes a LEAP user, one automatically belongs in an active LEAP user community. Each member is given access to communicate with each other to improve their LEAP experiences. Additionally, one can get access to LEAP's video tutorials, training blog, and important updates.
Law and Accounting
The software unites both legal practice and accounting under one roof. Features and capabilities are packed into an easy-to-understand yet comprehensive dashboard. It is integrated with many useful software such as QuickBooks Online and LawPay. Additionally, users can track billing time and manage trust and client accounts. Because of the pre-billing guide, users can instantly print reports and even generate invoices for emailing. LEAP also tracks every billable minute. This feature is available on your workstation or even your smartphone.
Completely Cloud-Hosted
LEAP is completely hosted in the cloud. It is a hybrid app, as it is both usable online as well as offline. Furthermore, LEAP had allied itself with Zaliet, an extended functionality that users enjoy. This partnership offers LEAP users with a premium website aesthetically designed by experts where they can promote their portfolios, members, partners, staff, and services.
Comprehensive Modules
LEAP is comprised of five comprehensive modules. These are legal content, accounting, database management, online marketing, and mobile apps. This allows the system to accommodate as much information as users need. This also enables LEAP to be integrated with third-party technology to streamline dataflow. Client information is stored on "Client Cards". Correspondences with clients are also stored for important revisits. Internal calendar in the system reminds users of deadlines and notifications are a plus. Furthermore, LEAP supports net worth statements and even has data on regulations and rates across U.S. states on hand. There is no need for third-party software for compliance-related concerns and financial calculations.