KwikCash Reviews: Does KwikCashOnline.com Offer Real Online Loans with Legit APR Rates?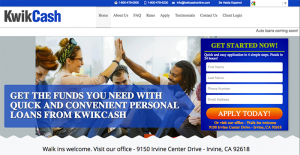 KwikCash Online was founded in 2007 and is based in Irvine, California. It offers high-interest unsecured personal loans to individuals with average to poor credit. KwikCash is rated  A+ by the Better Business Bureau. Interest rates are high, but lower than those for payday loans.
Online reviews about KwikCash are mostly positive and there have been very few complaints in the past few years. This lender offers loans only in nine states.
How is the lender different?
KwikCash uses a simple and fast application process without any loan fees. Simply fill in an online application, send ID and proof of income, and you could get the loan within 24 hours. KwikCash checks borrowers' credit score with Experian. Eligibility requirements are not tough, but you need to have an active bank account and a stable job to qualify.
KwikCash is a good option for those with poor to fair credit and need money urgently. The application process requires minimal documentation and the interest rates are preferable compared to payday loans.
The entire process is hassle-free and streamlined from the initial application to loan repayment. Monthly loan payments are debited directly from your checking or savings account. You choose the date on which payments are withdrawn.
KwikCash allows customers to pay off their loan early without any prepayment penalty. You can keep the loan for a few weeks, a few months, or for the entire loan term.
How to apply for a loan?
Visit Kwikcashonline.com or call their contact number to apply for a loan.
Lender Details
Most recurring positive comments
Customer service is superb
Entire process is easy to understand and the staff answer all questions about unsecured loans
Quick and easy to get a loan
Most recurring negative comments
Got a lot of junk email after submitting my information
Website: www.kwikcashonline.com
Loan amount: $2,500 – $10,000
Loan Period: 36 months to 60 months
APR: Minimum rate is 59.3% and maximum is 87.5%. The longer the term, the lower the rate.
Areas being served: KwikCash currently serves California, Georgia, Alabama, Idaho, Illinois, Utah, Montana, New Mexico and South Carolina.
Fees and charges
There are no application fees or hidden fees. There are no penalties for paying off your loan early.
Eligibility Criteria
To be eligible for a loan, you must meet the following criteria:
Are at least 18 years old
Have a social security number
Have a valid checking account
Are a resident of one of the states served by KwikCash
Documents Required
You need a copy of your current driver's license, 2 recent paycheck stubs, a voided check from your current (active) checking account and a copy of your most recent bank statement.
Personal information required
Name
Home phone
Mobile phone
Date of birth
Social Security Number
Driver's license details
Email address
Home address
Contact details
Phone: 1-800-478-6230
Email: info@kwikcashonline.com
Office address: KwikCash, 9150 Irvine Center Drive, Irvine, CA 92618