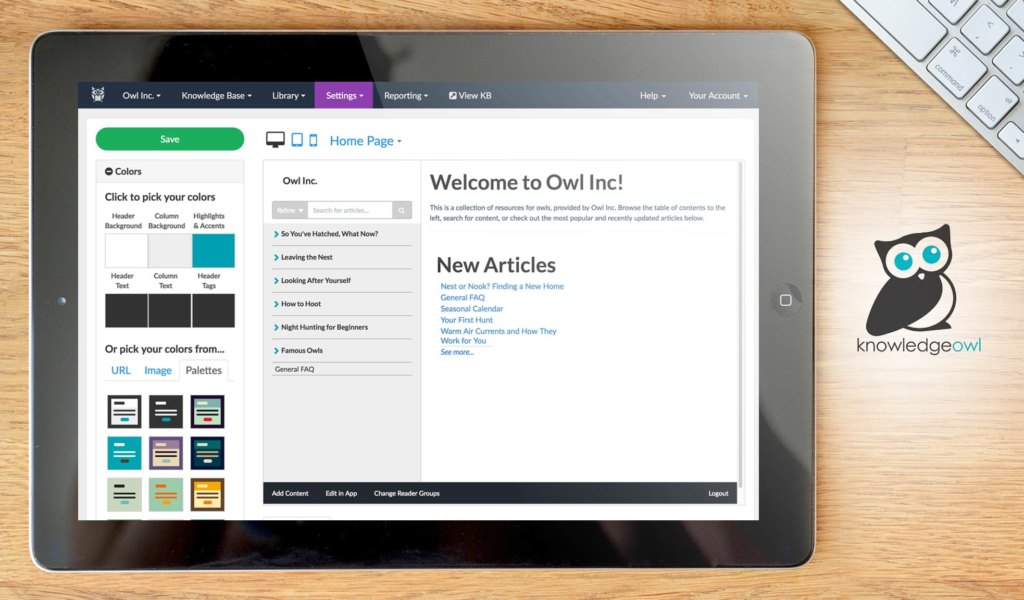 The main benefits of KnowledgeOwl are its no-code app development, a wide array of customization features and an open API for seamless integration with other business applications, control over the content, and customer-driven development. Here are more details:
No-Code App Development
KnowledgeOwl eliminates the need to write codes in order to develop modern and beautiful knowledge base sites. It features a full-featured rick text editor which lets you write content just like the way you would using a Microsoft Word. A variety of prebuilt layouts and themes are also available. But if nothing suits your preferences, the platform also offers customization option. On top of that, you do not need to install or download anything in order to get started using the tool. It is 100% web-based so you need nothing but a modern web browser and an internet connection.
Customization Features
KnowledgeOwl lets you create a site which completely matches your business or brand. You can brand your own knowledge base with your own domains, colors, logo, style, etc. Moreover, the platform gives its users full control over their JavaScript, HTML, and CSS, so you can choose how your site will behave. Moreover, with an open API, the platform allows users to create their own integrations to push or pull information out of their accounts.
Control Over Contents
The platform gives its users control over their content. They are able to download individual articles as PDF files. They can also create either a customized or full PDF download of their complete knowledge base or just various sections of it. They are given the tools for sharing and synchronization of articles between knowledgebase and categories that allow similar contents to appear in different places.
Customer-Driven Development
KnowledgeOwl is a platform that utilizes a customer-driven approach when it comes to development. That means that practically all the functionalities and features within the system are based on customer feedback. This also means that users, as a customer, can help in the development of the application.