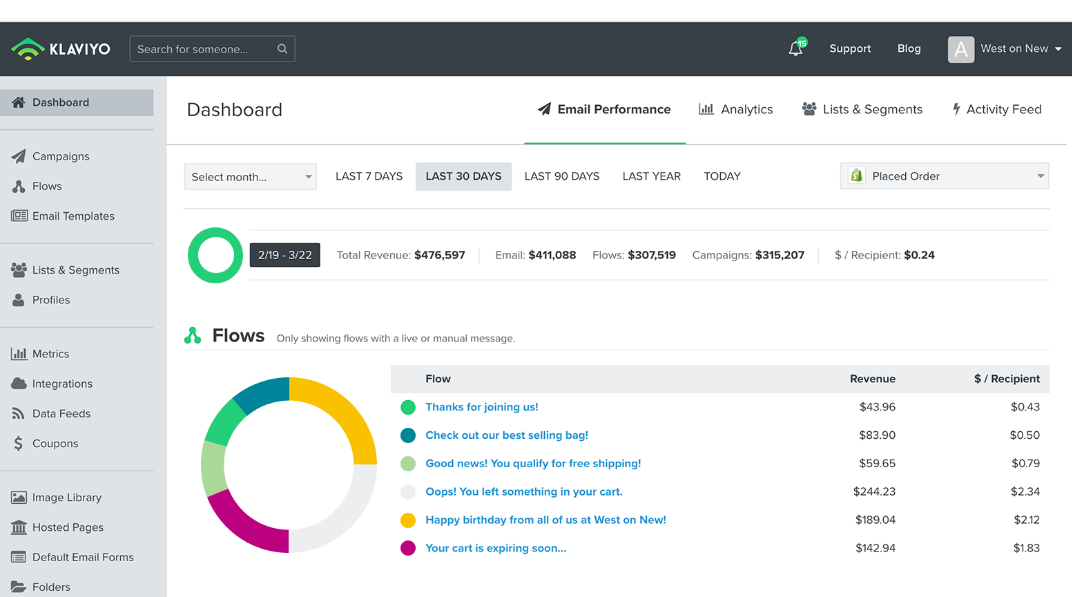 The main benefits of Klaviyo are easy to use, powerful segmentation, 1click integrations, and custom web tracking. Here are more details:
Easy to use
Klaviyo is built from the ground up to be easy to use. The solution comes with a WYSIWYG editor that enables you to create compelling emails without a struggle. Also, there are multiple responsive email templates that are optimized for all types of devices including mobile devices.
Powerful segmentation
Klaviyo is a robust marketing system built to streamline segmentation. The software allows you to use behavioral and transactional data to precisely target your marketing campaigns. Accurate segmentation translates to highly targeted marketing campaigns hence better promotional results. Besides, with Klaviyo, you can combine or exclude segments and stipulate the criteria for each segment to facilitate even more effective targeting.
1click integrations
Better still, Klaviyo is designed to eliminate the use of traditional marketing tools such as spreadsheets. The software integrates seamlessly with the tools you use, allowing you to pull data from ZOHO, Magento, Salesforce, Shopify, and more. Even better, Klaviyo offers an Open API allowing you to create custom integrations to boost your marketing.
Robust, custom web tracking system
Moreover, Klaviyo has a custom web tracking system. The system tracks the browsing behavior of your potential customers. This makes it easy to target customers who meet distinct criteria. The numerous targeting options and existing segments offer unlimited marketing opportunities.