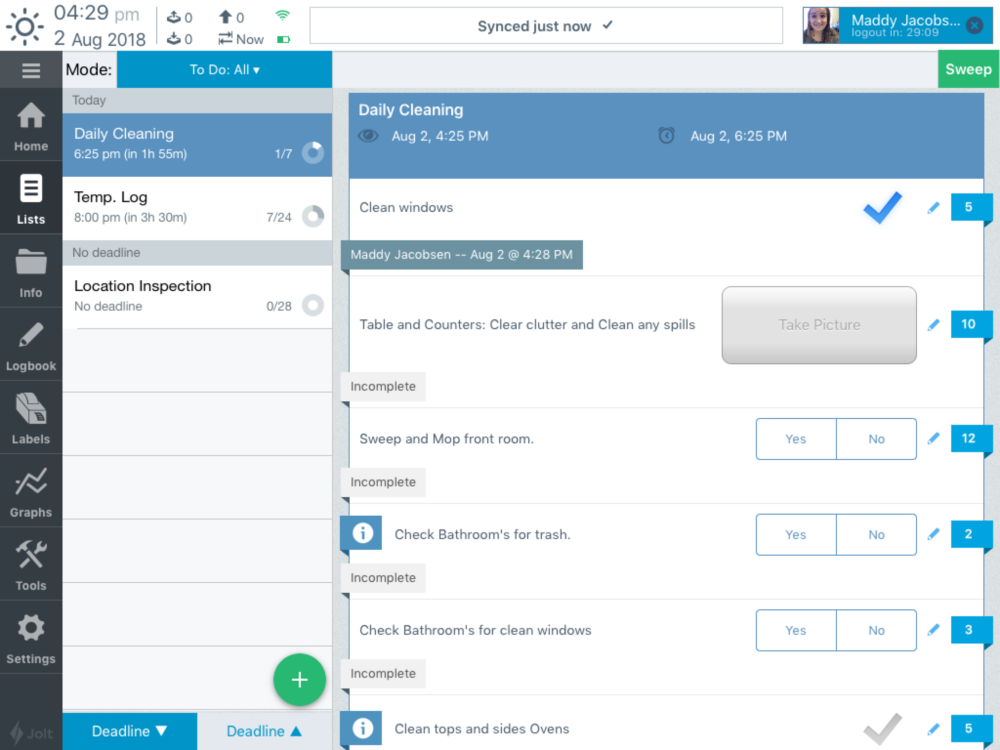 The main benefits of Jolt are its streamlined scheduling, efficient time tracking, and simplification of compliance management. Here are the details:
Businesses that use Jolt can easily create work schedules that are efficient thanks to the interface that is both easy to navigate and robust. Wherever users maybe, work schedules can be centrally managed. Work schedule views can be customized and integrated into other platform features, thanks to the software's interface. Customized tasks and checklists can be created with Jolt, and users can also set up when employees will be presented with these tasks.
By using GPS, Jolt can keep tabs and employees and make sure that they are in the designated place during the designated time. Jolt's mobile apps and time clock feature also allow employees to punch in wherever they may be.
Businesses who use Jolt will have no trouble disseminating information to their employees, thanks to the software's information library and employee announcements. Jolt helps its users successfully inform their staff either about a general announcement or a policy change. Reports are also provided that detail which employees have seen the announcement and when it was viewed. The Jolt logbook is perfect for important or urgent communication, as it is the main place where employees and managers can meet.
Jolt users can also easily build custom inspections and audits, thanks to the Inspections and Forms tool. Complying with industry regulations is now easier as the feature helps with equipment auditing, CLIA compliance checklists, the creation of food safety logs, and other inspections of a similar nature. Operational deficiencies can be pinpointed, business processes improved, and critical alerts received. Options for real-time task review also makes it easier to hold people accountable.
Disseminating information to employees can no be done easily and securely with Jolt. Announcements can be sent and event reminders set with options for message blasting as well as several communication tools. Users can also communicate with specific individuals, groups, or roles within the company thanks to the filter options provided.