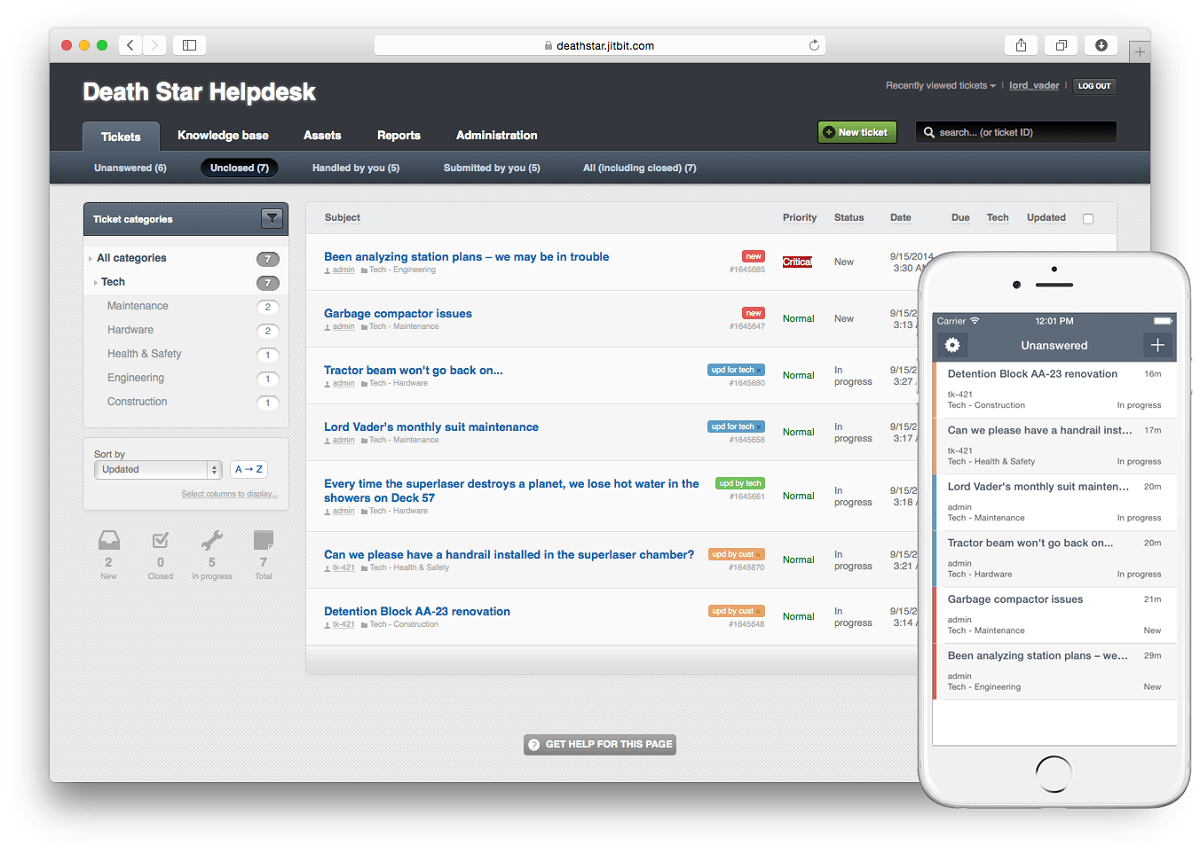 The main benefits of JitBit HelpDesk are tools that simplify help desk tasks, improved customer service, streamlined ticket management, reporting tool, seamless integrations, and customization options. Here are more details:
Simplifies Help Desk Tasks
JitBit HelpDesk is designed to be uncluttered and simple, so even those with less technical knowledge can operate the system immediately. From email tickets management to the self-service portal access, this platform lets you do things in a breeze. On top of that, the software has an intuitive and fast visual user interface which makes administrator pages efficient, short, and navigable. Furthermore, the software comes with a single sign-in feature which lets users connect it to their Google accounts, Windows authentication system, and other providers of external authentication service.
Improved Customer Service
The platform has a machine learning-powered automation feature which allows the app to suggest relevant contents such as FAQs articles to customer agents. This helps agents find answers to their customer's queries and solution to their concerns faster. The feature also lets you create rule-based chatbox as well as auto-responders, eliminating the need for manpower to respond to common scenarios while still ensure that each customer concern is being taken care of.
Streamlined Ticket Management
In addition, JitBit HelpDesk comes with a ticket grid view which displays the status of the user's new as well as ongoing tickets. The way you view your tickets can also be customized with the aid of the platform's filters. Aside from that, this feature helps you with support tickets tracking as well as contacts management by integrating the platform with your company's Active Directory and email.
Reporting Tools
With a reporting tool, the platform makes it easier for users to monitor their team performance. Built-in analytical reports are also available which gives users an insight about several different issues across their organization. There is also a customized report feature which lets users build their reports without breaking a sweat.
Seamless Integrations
JitBit HelpDesk also offers integration with several different external applications including CRM tools, project management systems, to name a few. With a powerful REST API, you can connect the platform to any other existing business application you have.
Customization Options
The software also comes with a wide array of customization selection to help users apply their branding to the software. You can change the interface color, add your logo, and many more.