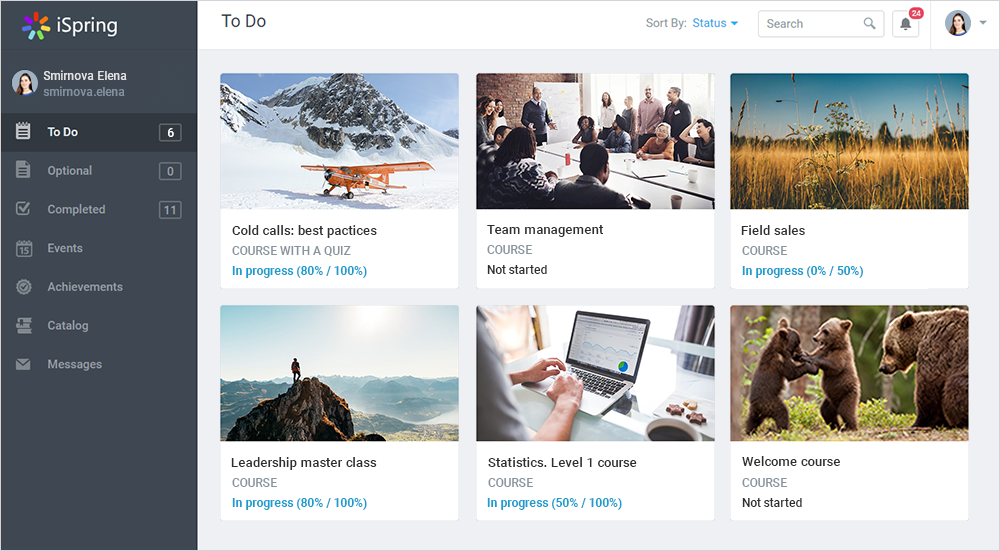 The main benefits of iSpring Learn LMS are its simple and intuitive design, and customizations. Here are more details:
This simple yet effective system is designed for teaching students online or assessing employees. It provides learners quick and simple access to their courses. It lets you create your own learning materials and gives control over the learning process. You can assign the courses to students or employees after preparing and uploading them on the system. Then you can assess their progress based on detailed statistics.
Using Powerpoint, iSpring authoring tools come up with a perfect solution that creates engaging and interactive learning materials for various platforms. You just have to click once to upload your e-courses to iSpring cloud LMS. The system supports audio/video, Flash/HTML5, reference documents, SCORM packages and more.
Through the system, one can follow the progress of individual users or groups, evaluate the effectiveness of training programs and follow your sales activity. iSpring Learn offers you a variety of reports to assist you in gaining and maintaining control over the training. Also, the platform delivers certificates to learners on its own through email once they have completed the courses and quizzes.
The system provides one with different customization options. You can customize the visual elements of your materials like colors, logos, and the language of your user portal that reflects your corporate identity. iSpring Learn also has features that help you sell your e-courses. The software also allows you to link to an online payment channel and profits are credited directly to your account.