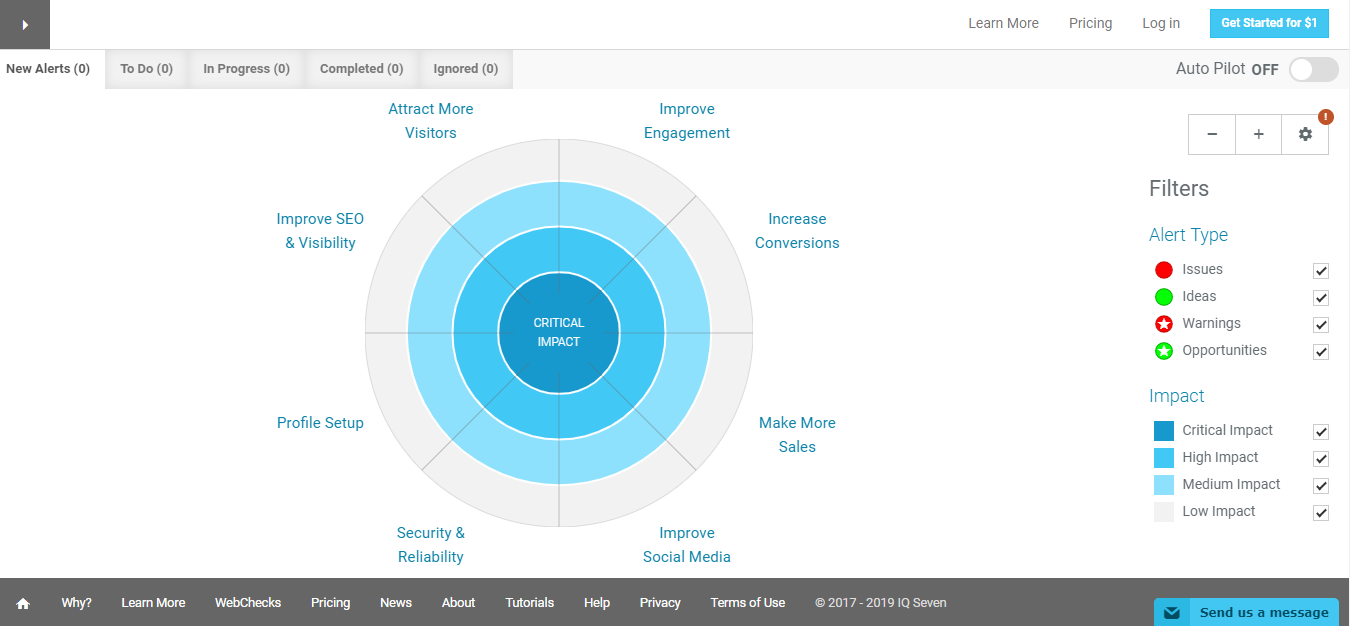 The main benefits of IQ Seven are its seven segments for checking a website's performance, its 24/7 website monitoring, its automated web checking, and its affordable plans.
Seven Segments
IQ Seven has seven segments that factor in your website's performance. With these, you gain a comprehensive look at your website's functions. Each one offers suggestions for improvement, depending on your need. Once you have optimized them fully, you can reach a critical impact, which means you have higher chances of attracting visitors, engaging them, and eventually converting them.
24/7 WebChecks
IQ Seven is a WebCheck solution that monitors your website performance around-the-clock. With this, it finds problems you do not even know exist as soon as they arise and alerts you. Thus, you can resolve these issues immediately to avoid them getting a negative impact on your website's visibility and ability to engage visitors.
Automated WebChecks
As its name suggests, IQ Seven has seven segments for which you can perform WebChecks. However, you do not have to check all of these every time. If you prefer not to worry about selecting segments, you can leave the job to the solution. IQ Seven can be put into autopilot and it will choose the best WebChecks on your behalf.
Budget-Friendly Plans
You can subscribe to IQ Seven on a monthly basis or you can use it whenever you need to. Either way, the solution is economical and offers a high ROI. What's more, it has a risk-free one-month trial for only $1.