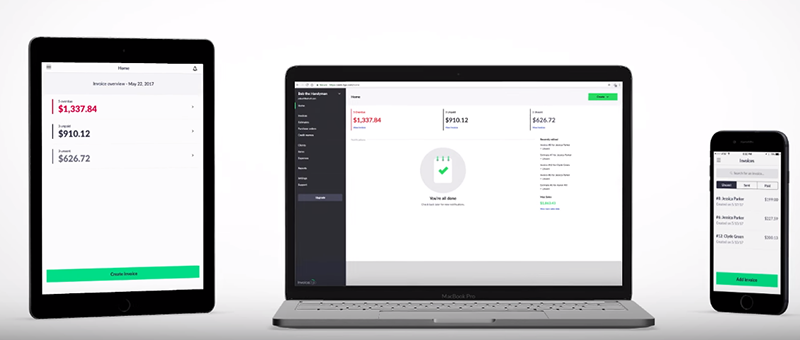 The main benefits of Invoice2go are its informative dashboard, invoice generation tools that can be customized in various ways, different reporting features, and watermark that provides invoices with copyright protection as well as its support for multiple currencies. Here are more details:
Comprehensive Dashboard
The main element of Invoice2go is its dashboard that features charts and graphs to display organizations' financial status and recent history. There are data on clients that owe the company, total sales numbers, average sales, biggest sale, cash flow, the total for a quarter, and top ten customers. A variety of report types can also be accessed from the dashboard.
Customizable Invoices
The invoices generated by the system can be customized easily. There are seven templates offered to choose from and a wide range of default terms and conditions, logos, customer notes, and discounts. Invoices themselves can be created easily as well with the option for printing and sending them immediately or saving them for later use. Expenses and receipts can also be attached to them. Emailed invoices are received by clients as a PDF attachment with the link for payment methods.
Various Reporting Tools
When it comes to report generation, Invoice2go isn't lacking. It is capable of producing thirteen types of reports, such as profit and loss statements as well as sales and expense reports. These reports can be printed, emailed, exported and can also be accessed by the company accountant.
Watermark Feature and Multi-Currency Support
One unique feature of Invoice2go is the ability of users to include a watermark on their invoices for copyright protection. To top it off, the app is also an optimal choice for those that are dealing with international customers since it can work with over 45 currencies.