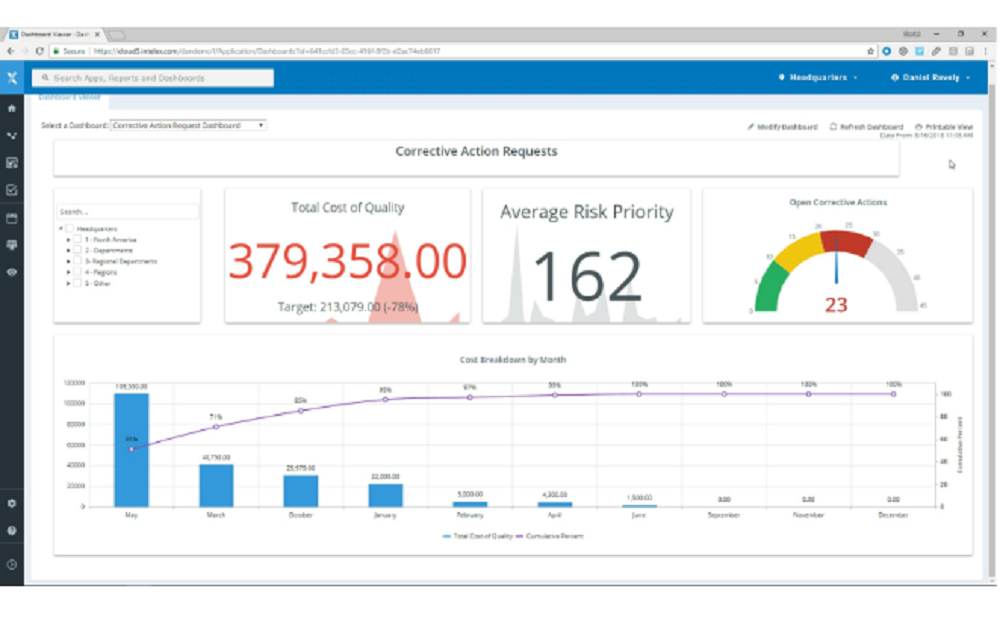 The benefits of Intelex are its great flexibility to meet varying needs and specifications, compliance with regulatory standards, EHSQ alliance, its mobile-ready and web-optimized nature, and the tools it provides for reporting and BI. Here are more details:
Flexible
Businesses vary from each other on many different factors including size, risk management, quality check, and operational workflows audit. Because of this, meeting all the needs and specifications of all businesses is hard for EHSQ software, but not for Intelex. The platform features a business intelligence framework that addresses all external and internal measures of businesses and then creates modules that provide support for the creation of apps when the need arises. This is handy for both maintaining current workflows and integrating newly created ones.
Regulatory standard compliance
As a torchbearer of EHSQ standards, Intelex has the capability of ISO 14001 and ISO 9001 certifications which turns organizational needs into regulatory compliance requirements. Because of this, it is now easier for businesses to get certifications and essential add-ons for boosting their performance via a unified location. Organizations also free users from the worries regarding safety maximization and risk management because Intelex efficiently performs data collection, helps assess effectiveness, analyzes the indicators of key performance, automates the calculation of error, and aids in evaluating key impacts.
EHSQ community
There is a place, called EHSQ Alliance, where professional are kept informed and work together with each other as one community for achieving engagement. This is done by driving commitment throughout the entire company for total EHSQ support. From this, valuable insights can be obtained, which is helpful for empowering enhanced performance and helping achieve the desired business results.
Mobile and web interfaces
The platform is accessible from any smartphone or tablet, enabling you to obtain mobile experience and putting all the system's power in the hands of every user. Offline features allow you to continue working on the system because once proper connectivity was regained, data would be synced automatically.
BI and reporting tools
The Intelex BI tool is a combination of personalized EHSQ experience and best BI features. It is capable of delivering live data that can be easily analyzed for discovering inefficiencies, tracking campaign effectiveness, and assessing compliance risks. There are also data slicers, benchmarking, dashboard, and reports. The BI platform is a straightforward but powerful system that features a self-service module that can be utilized for making smarter decisions, creating continuous improvements, and driving operational excellence.