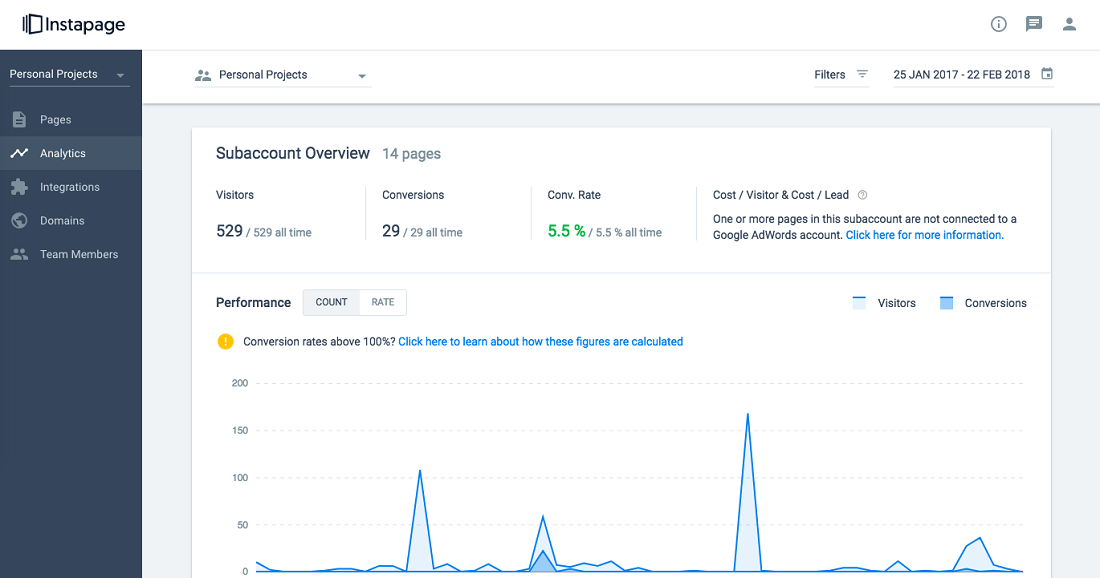 The main benefits of Instapage are the numerous options it offers for integration, mobile-friendly designs, the capability to convert landing page formats into customizable templates, an increase of engagement in limited offerings, unlimited number of unique visitors allowed, and reliable support staff to aid users when they got stuck. Here are more details:
Numerous integration options
Instapage understands that integrations are crucial to websites today, which is why it provides many integration options for users to choose from. It keeps the website linked to customers via any resource possible. There are over 20 marketing tools that can be incorporated, more than enough of what users typically require.
Mobile responsive
A very important feature of Instapage that definitely increases the conversion rate by using highly responsive designs that can be viewed perfectly on any mobile devices. And since many customers access the site through smartphones and tablets these days, it means that many customers are able to enjoy a better experience as well.
Landing page conversion to template
Templates can be imported from landing pages quickly. The system will aid users in duplicating the particular design and convert it into a template so that users can customize it further until they are satisfied.
Enhanced limited offers strategy
If businesses decided to utilize limited time offers, Instapage ensures that they maximize the potential of the campaign. The system provides clients with a clock to countdown the end of the current promotion.
Unlimited unique visitors support
Unlike typical software on the same field, Instapage does not impose any limit to the number of unique visitors that their site can take. This means that users can have as many visitors as they can, a significant plus point for the system.
Reliable support staff
When users got themselves stumped at any point, they can count on the system's support staff to aid them anytime. They can get their queries addressed before their website starts suffering from loss.