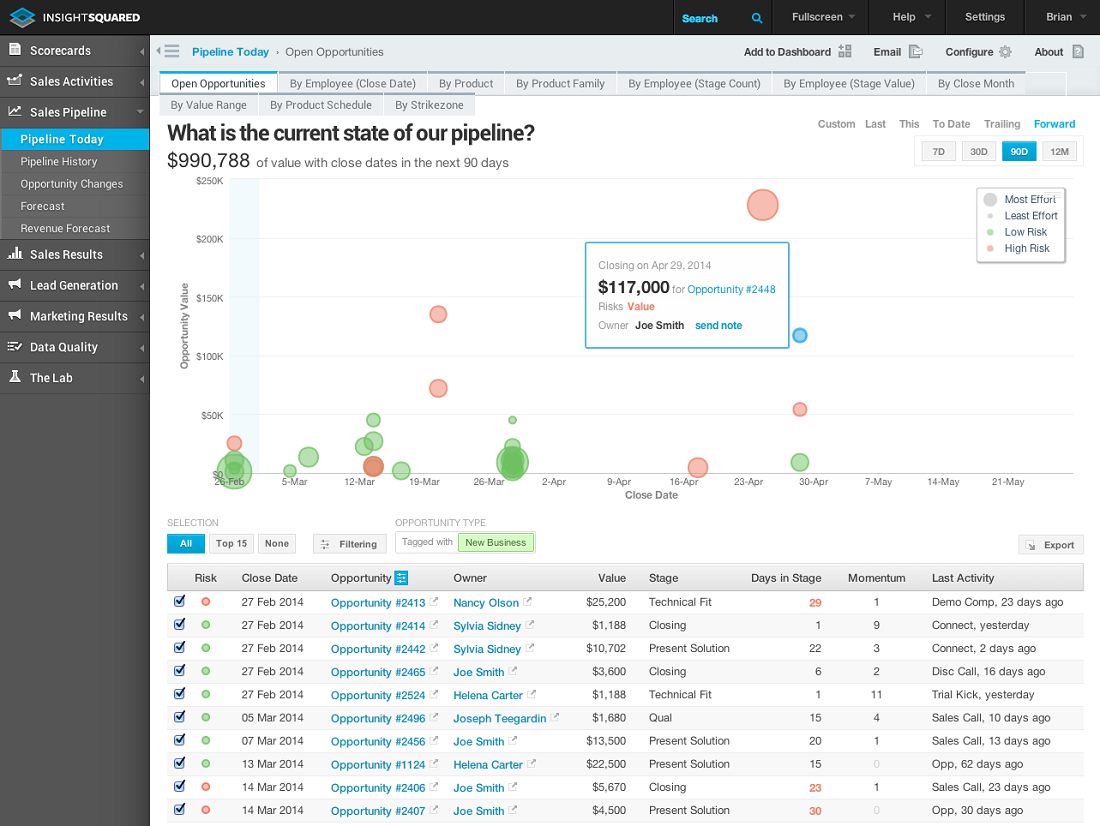 The main benefits of InsightSquared are its multiple dashboards that provide views of all important metrics, the capability to use the information to predict sales, analysis of marketing trends, financial reporting, analysis of employees, and support team analytics. Here are more details:
Displays all relevant metrics
The software sports six dashboards, each one is customizable, and they provide you with a live view of every important metric as well as latest trends helpful to your business. It shows sales cycle warnings, flagged data errors, new pipeline opportunities, and a lot more.
Sales and trends forecasting
By using historical win rates, either by stage or by employee, InsightSquared is able to predict must-win and sales opportunities. It can determine emerging trends through the use of over 10 pre-built pivots that can be filtered and segmented. And to provide a full pipeline analysis, the application can be integrated with Salesforce.
Marketing analytics
The system is equipped with features that perform in-depth marketing analysis such as measuring progress towards the goals in lead generation. It can also report relevant information about campaigns and view the conversion rates of lead to opportunity.
Financial insights
With InsightSquared, you'll be able to obtain insights into the emerging trends in financial aspects and drill into certain accounts and segments. The system can give you unified reporting that spans across the entire company or you can get more specific reports organized per department. This feature integrates well with all versions of QuickBooks.
Workforce analytics
InsightSquared enables you to define job orders on a daily basis, divide them by status or age, and then add custom segments. You can also monitor the progress of workers related to their individual productivity and goals through the system's employee scorecards and activity dashboards. This will allow you to spot both the best recruiters and the best candidates for each job.
Team Analytics
Emerging trends are useful information for deriving critical insights helpful to your business. With the aid of InsightSquared, you will be able to obtain such insights by analyzing historical data, pivot, and filter by industry or employee, and then drill down by accounts and segments. Open cases can be analyzed with the use of multiple variables and filters and KPIs are measured by individual sales representatives.