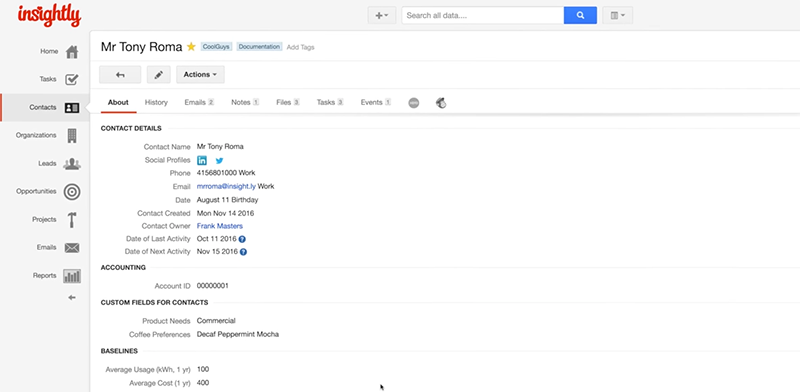 Powerful CRM
With Insightly you can manage suppliers, vendors, partners, organizations, leads, and contacts. View everything from background, events, email history, opportunities, and projects.
Project Management
You'll notice in many Insightly reviews that one of its benefits is you stay top of your project at every stage – monitor project activity and performance against milestones.
Business Overview
Get actionable insights and view your business any way you want with reports, activity sets, task dashboard, and more.
Go Mobile
The Insightly mobile app supports iPhone and Android phones and leading tablets.
Key Integrations
Insightly integrates seamlessly with email, Zapier, Xero, Torpio, QuickBooks Online, Outlook 2013/Office 365 Business Edition, MailChimp, G Suite, Evernote, Dropbox, Box, and more.
Integrated CRM and Project Management
Insightly offers CRM and project management in one solution to help you stay on top of your customer relationship at every stage. You can use the project overview screen to see the recent activity on any project, and track project performance against milestones over time. With Insightly project management you can view and track event reports, include project files, view completed tasks and events by project, track all email correspondence, specify roles for contacts, get automatic email reminders, and create milestones, pipelines, and tasks for projects.
Sales Opportunities
You can use this app to manage potential business in your sales funnel. On top of that, you can create opportunities to define the value of the business, manage associated activity sets and pipelines and opportunity funnel stages and categories, probability of winning deals, and predict close dates. In addition, the opportunity reports give a full overview of the health of your business.
Reports
Insightly's legacy reports include nine configurable reports for sales opportunities and activities (tasks and events) and include basic graphs. The advanced reports enable you to create custom, tabular reports. Advanced logic filters help you narrow your report criteria, and you can add summaries and include report categories to a row of calculations. Report scheduling and smart alerts are also offered with paid plans.
Social CRM
Simply enter a contact's email address and Insightly will detect all social media profiles related to the email address. You can view Twitter content and your contact's public LinkedIn profile displayed right in the app. Moreover, with a few clicks you can explore your contact's public profile information on Twitter, LinkedIn, and Facebook.
Insightly Customer Success
The vendor helps you to make effective use of the app and tailor it for your business. Their customer success specialists will help you set up your account, train your team members, and update you on the latest features. Whether you opt for a do-it-yourself or a more hands-on approach, there is an appropriate service plan ready for you. You can also check out this Insightly review for more details on how the software performs.