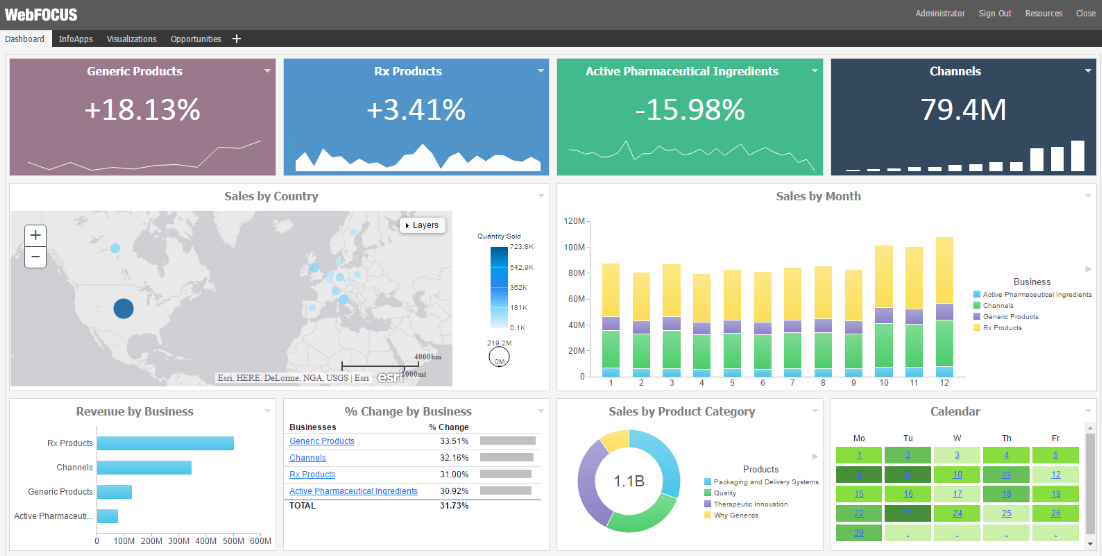 The main benefits of Information Builders are effective data procurement, omnichannel data transfer, cross-platform implementations, and helpful business intelligence. Here are more details:
Effective Data Procurement
Information Builders is an easy to use BI solution designed to facilitate self-service data procurement. With the platform, even the nontechnical user get the data they want without relying on BI teams. The solution is built to be user-friendly so that users can get data, generate reports, and unearth helpful insights without prior technical knowledge. As a result, the decision-making process is accelerated, and task completion is simplified.
Omnichannel Data Transfer
In addition, Information Builders enables users to share information with colleagues. Data is configured to feature interactive views so that it can fit seamlessly into the screen of any device.
Cross-Platform Implementation
Better still, Information Builders makes it easy for users to create enterprise-grade solutions. It provides tools that empower users to build a native app container, studio, and built-in analytics solutions. Besides, every app the user develops can easily be implemented to the web or mobile without further code rewriting for each platform.
Helpful Business Intelligence
Moreover, Information Builders provides high-quality business intelligence to help business streamline operations. Information Builders provides impressive data mining and a fully integrated BI environment to help users gain helpful business intelligence. The intelligence is up-to-date and accurate, thus perfect for use for strategic planning.