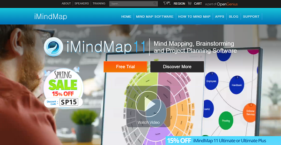 The main benefits of iMindMap are its ersatile tools and features for mind mapping, large asset libraries for images and icons to help users build their designs, and supports processing of large data for users for visualizations.
iMindMap is a visual-focused mind mapping software that's equipped with many graphical tools and features to assist users to make and organize ideas and concepts, improve these thoughts, and turn them into reality. Trusted as one of the best mind mapping platforms today, iMindMap does its best work as it uses elements of color, visual-spatial arrangement, and color to empower users to step up their mind mapping activities.
Visual cues and tools have long been known as effective tools in boosting recall when compared to usual practices such as memorization and note-taking. iMindMap provides a vivid approach to mind mapping which assures the better learning experience.  When it comes to brainstorming, creativity is needed. iMindMap's tools and features such as the large image and icon libraries can assist users in building their creativity and inventiveness. Meanwhile, the Smart Layout tool allows users to structure mind maps in crisp, organized and makes use of space efficiently.
Spatial layouts provide a better view of projects which allows users to connect the dots with the possibilities and connections of its output. Moreover, users can freely conceptualize on any topic using the app. Visually appealing mind maps are efficient in making and implementing plans. iMindMap's visualization makes it easier for users to understand complicated data, flex their thinking skills, and locate opportunities.