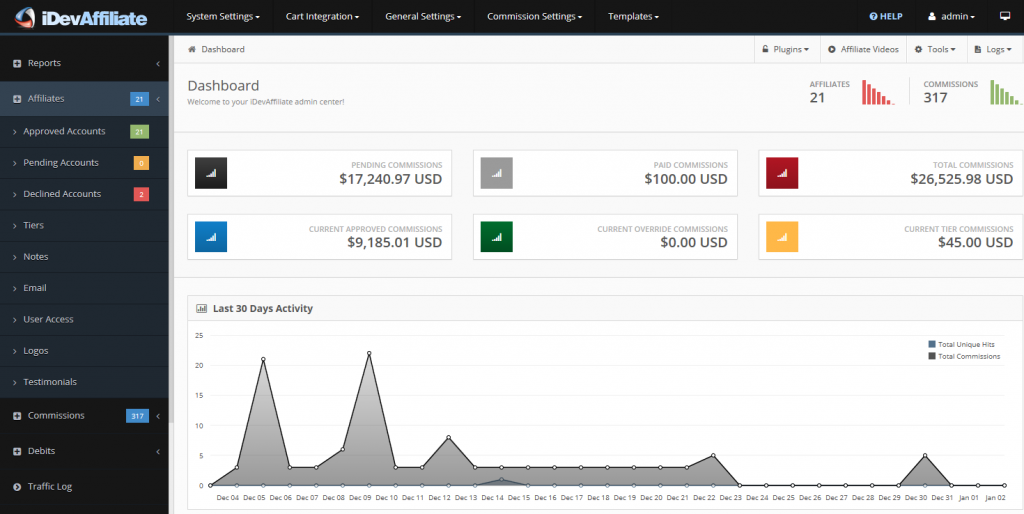 The main benefits of iDevAffiliate are flexible affiliate recruiting, direct social media sharing, and fraud protection. Read on to understand further.
iDevAffiliate helps extend the existing sales force via affiliates and enables you to grow your sales, boost traffic, and improve SEO. Its social media marketing allows you to share campaigns on leading social platforms like Twitter and Facebook easily. You can also share your campaigns through banners, page peels, text ads, HTML ads, email templates, videos, and more.
You can directly share using your account and make multiple campaigns with hashtags and photos. iDevAffiliate supports WordPress and can be integrated with the popular shopping carts and many membership platforms like Paid Membership Pro, WooCommerce, and Optimize Press.
iDevAffiliate provides all the features that you can expect from a high-quality affiliate tracking solution. It includes a user-friendly interface, USA-based support, and stability. It also has reporting, commissioning, and marketing tools and it's customizable with the use of language packs, CSS/HTML templates, logos, and color schemes.
Its fraud prevention features include password encryption, commissions account restrictions, tracking expiration, account/commissions blocking, and more. All these functionalities help you minimize the occurrence of fraud.
Furthermore, you can design a customized payout structure, be it a percentage-based, recurring, flat-rate, pay-per-action, or pay-per-click based commission. You can recruit up to 10 tiers of affiliates, which gives you and your business flexibility in managing your business.
The reporting tools, on the other hand, offers all the essential status that you need to stay on top of, including graphs and charts, PDF/CSV, Excel data export, and print views. iDevAffiliate's cloud plugin includes SEO links, language packs, social media marketing, QR code, geo-targeting, vanity coupon codes, custom file names, and private signup.