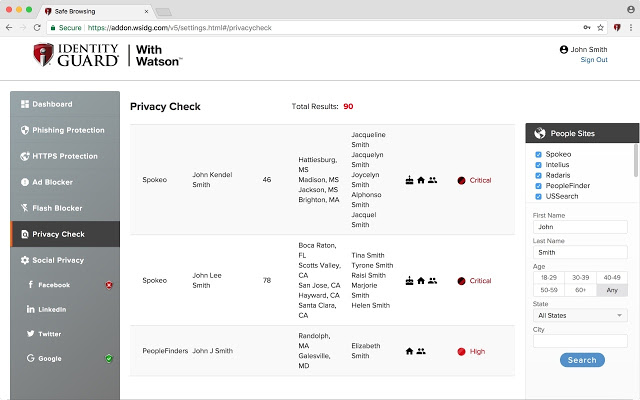 The main benefits of Identity Guard are its robust package of advanced identity theft monitoring and reporting, black web monitoring, and extra features like its own antivirus software. Here are more details:
Protect Yourself Against Identity Theft
Identity Guard's comprehensive packages come with the most advanced features and capabilities that protect your most critical information such as personal details, email addresses, credit card numbers, social security numbers, and bank accounts.
It is a powerful identify theft protection program that monitors your financial transactions and behavior via credit monitoring and credit score reporting. Once identity Guard detects a potentially fraudulent transaction, you are notified in near real-time so you can quickly act and take the necessary steps to ensure that your identity is not compromised or to begin restoring your identity if it is.
Comprehensive Package
Aside from the usual identity theft protection features like credit card reporting and fraud monitoring, Identity Guard goes the extra mile by providing you with their proprietary antivirus software to help secure your personal and financial information from the reach of hackers, bots, and malicious programs when you browse the web. If you fall victim to identity thieves, Identity Guard provides expert assistance to help recover and restore your data.
Black Web Monitoring
Identity Guard constantly monitors the black web and closely listens for mentions of your financial and personal information. Whenever it captures your information, you are automatically alerted and to help protect against fraudsters from selling and profiting off your data.
Disclosure: Identity Guard has a business relationship with CompareCamp. This relationship does not affect the contents of this review. The opinions expressed here are our own.