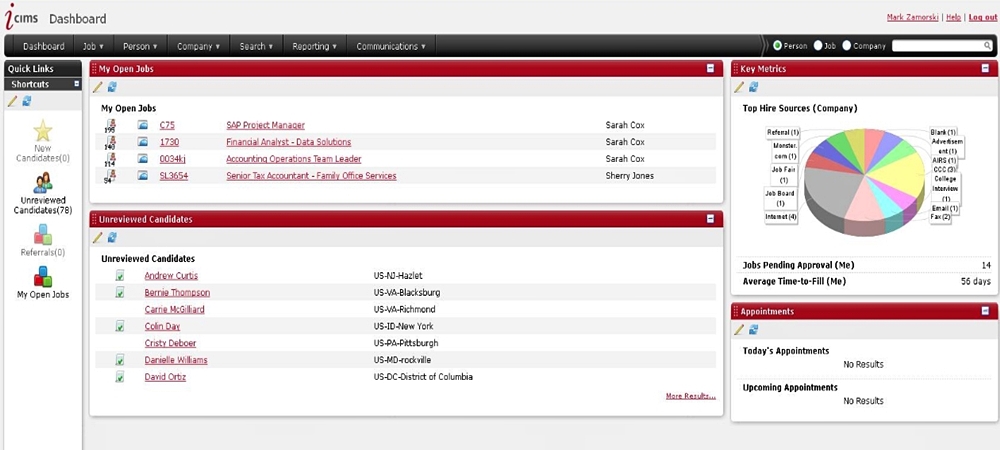 The main benefits of iCIMS Talent Acquisition are its customizable career portal, its career site search engine optimization, and its social media distribution. This software is highly regarded as among the largest providers of world-class talent acquisition and management solution in the cloud, with over ten years of experience in the industry. Currently, iCIMS Talent Acquisition is used by approximately 3,200 businesses and organizations worldwide.
Its Applicant Tracking technology is designed by recruiters and HR professionals alike while the Recruitment and Applicant Tracking Solution is packed with tools and functionalities that make the recruiting process efficient. All data of candidates are stored in a centralized database and can be accessed through a standard platform to address business requirements.
iCIMS Talent Acquisition allows businesses and organizations to customize their career portals using their branding components to match existing corporate sites, therefore offering applicants a consistent experience. All candidates' data is collected in formats with standard fields to make sure all data is consistent. When the data is entered, the management can access it within the system for review.
To ensure a maximized data security and alleviate the risks that regard to data gathering, all information is sent to a protected database that adheres to EEO, ADA, and OFCCP policies and regulations as well as worldwide recruitment laws. The software's tracking system comes with a communication hub functionality that lets HR professionals and recruiters send targeted schedules emails to their prospects. This helps them retain and improve engagement while maintaining a good relationship.