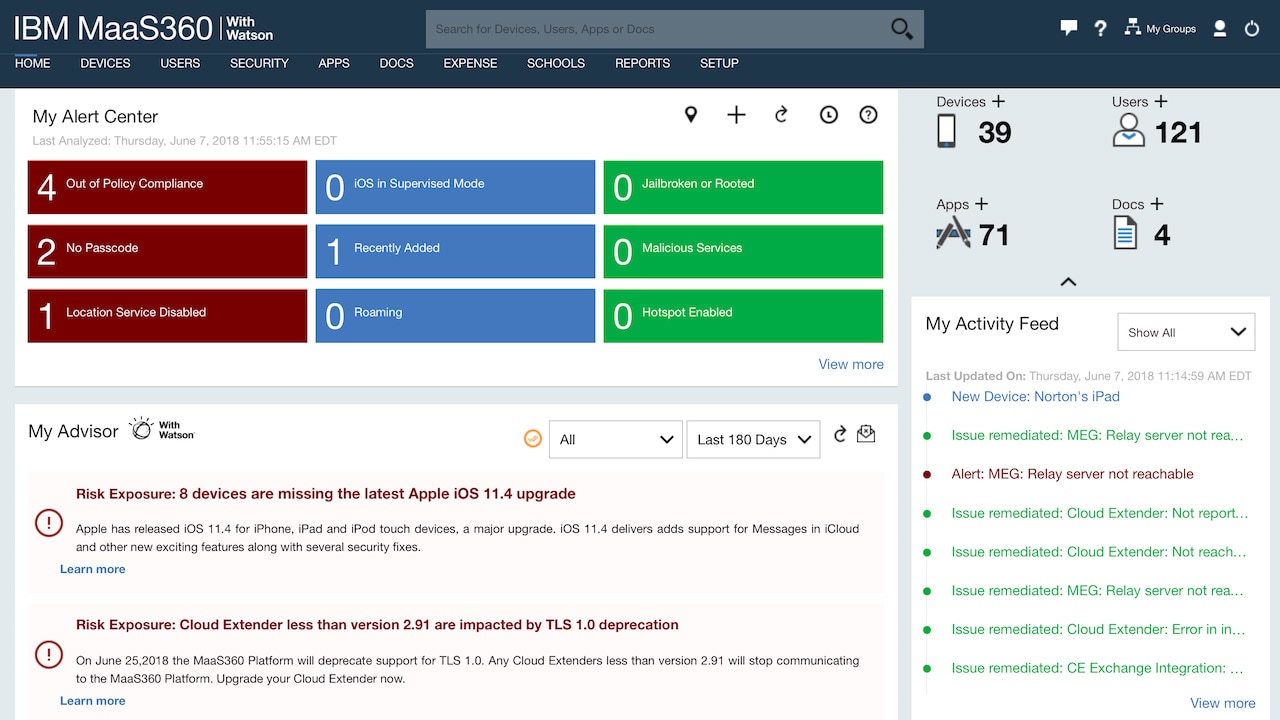 The key benefits of MaaS360 are its mobile support, flexibility and rich feature set.   Here are some of the advantages associated with the use of IBM MaaS360 are:
Effortless Device Management
MaaS360 simplifies a company IT team's device management tasks. Device monitoring is a breeze, as IT teams can do it either remotely from the air or from one place. As a result, employees can bring their own device, which in turn raises productivity as they can bring devices they are comfortable with, all without putting the company's data at risk.
Rapid App Deployment
MaaS360 comes with an interactive catalog where the company IT team can manage applications. This catalog lets them pick apps for employees to use, distribute those, and then update when necessary.
MaaS360's container app is also something that makes tasks easier for both employees and the company IT team. Employees can be assured that they are keeping corporate data safe since the container app encrypts and separates company files from other apps. Meanwhile, IT teams only need to monitor and manage the container app, making their job easier and ensuring that they are respecting the privacy of employees.
Secure Content Collaboration
Work collaboration is also encouraged with MaaS360. The software can hold all relevant work documents, and allow employees to easily edit those documents without changing the formatting.
At the same time, company data is not compromised as IT teams are empowered to set controls on this feature. Employees can only work on files they are authorized to work on.
Another way MaaS360 encourages collaboration is with its link to a device's calendar. Meetings can be set up with ease and chats can be had in real time. Not only is collaboration easier, but employee productivity is also increased.
Secure MDM Solution
The secure container MaaS360 eases any fears companies may have about their data being compromised. Not only does this container separate company data from other applications, but it also comes with a threat detector that notifies company IT teams of any malware or attempts at device infiltration.