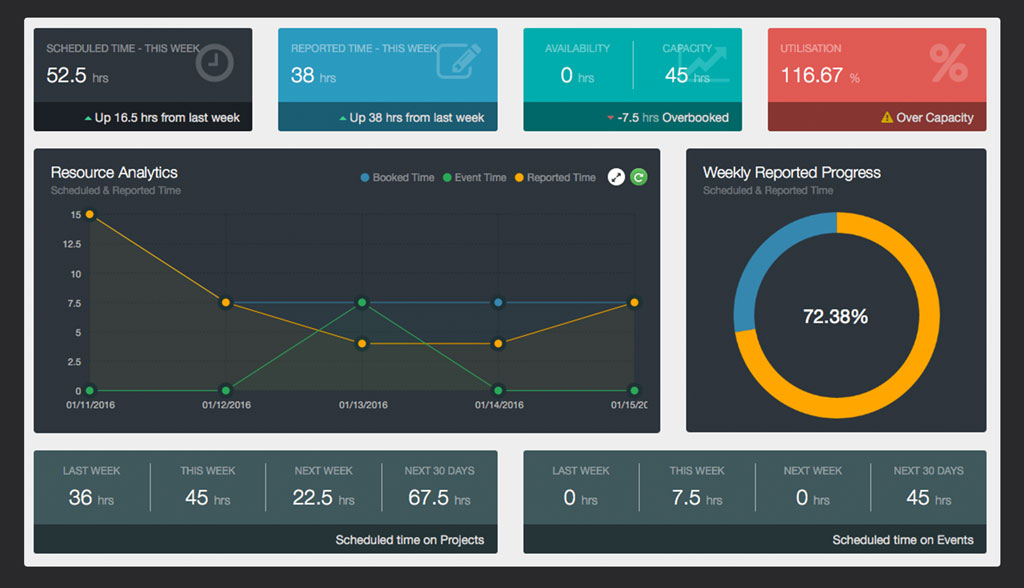 The main benefits of Hub Planner are its modern resource scheduling and management module, smart timesheets, and project planning module. Here are more details:
Modern Resource Scheduling & Management Module
Hub Planner offers a modern resource scheduling as well as a management module. The resource scheduling module boasts a drag-and-drop technology which makes the process of scheduling teams on a project a breeze. All you have to do is drag booking on the schedule. This also makes resizing or moving bookings between members easier. On top of that, the module offers integration with iCal, giving every member of the team full visibility of the booking. Generally, the resource scheduling suite lets project managers enjoy complete clarity, transparency, and visibility when planning projects.
Smart Timesheets
This software also features timesheets which provide powerful time tracking module and dynamic reporting features. Developers designed the timesheet keeping the intuitive usability in mind, resulting in a rewarding and hassle-free time tracking tool. This solution also boasts a smart design that guarantees that project managers will get a vivid picture of the actual vs. the scheduled time. Graphs and charts are also available, which users can utilize to deliver a visually interactive overview of resources and team performance.
Project Planning Module
Hub Planner also comes with a project planning module designed to help users with project budgets, phases, and milestones planning. This module is tied directly into the platform's scheduling module which means project managers can get a clear view of all their projects with ease. Users can also create and keep project budgets easily as the platform assigns a budget setting for each project. Also, this module gives users a portfolio view on all top-level milestones, phases, as well as special dates for the project.