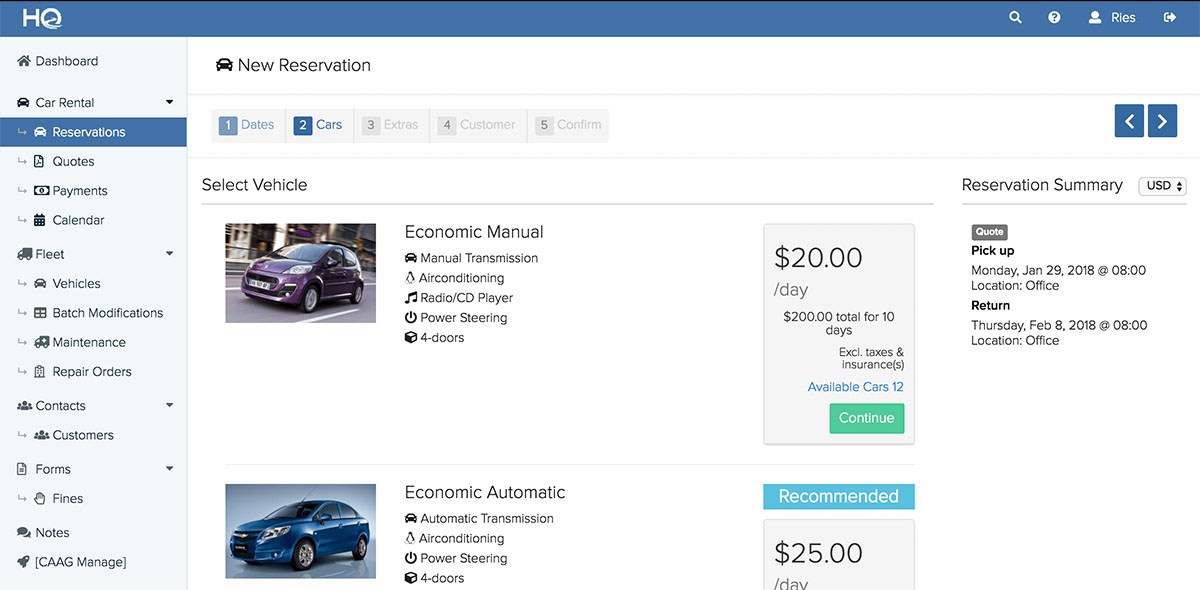 The main benefits of HQ Car Rental Software are convenient booking process, real-time vehicle tracking, and flexible rate management. Here are the specifics:
Convenient Booking Process
Through HQ Car Rental Software, vehicle rental companies can offer their clients the ability to reserve, manage, and pay for their booking online, easing the burden of your staff and making it more convenient for all your customers to manage everything.
Real-Time Tracking of Vehicles
The software offers administrators the ability to track the rented vehicles in real-time. This capability allows them to see the availability of their units in the fleet and offer both walk-in and online customers a vehicle while preventing double-booking.
Flexible Rate Management
With the help of HQ Car Rental Software, vehicle rental companies can easily use flexible pricing to fleets. By changing rates based on the season and other phenomenal conditions, users can acquire a competitive edge over their competitors.
Customizable Protocols
Once customers cancel, adjust the schedules, or for other cases, companies should have contingency plans. This makes it possible with HQ Car Rental Software as it lets you apply your existing business rules online to make sure that you incur losses.
Built-In Bookkeeping Tools
For your business to stay on top of your finances, you need to make sure that all your financial-related data are tracked well. There is where HQ Car Rental Software comes into play. It has an integrated bookkeeping solution that helps streamline the cash flow tracking and lower the operational costs.