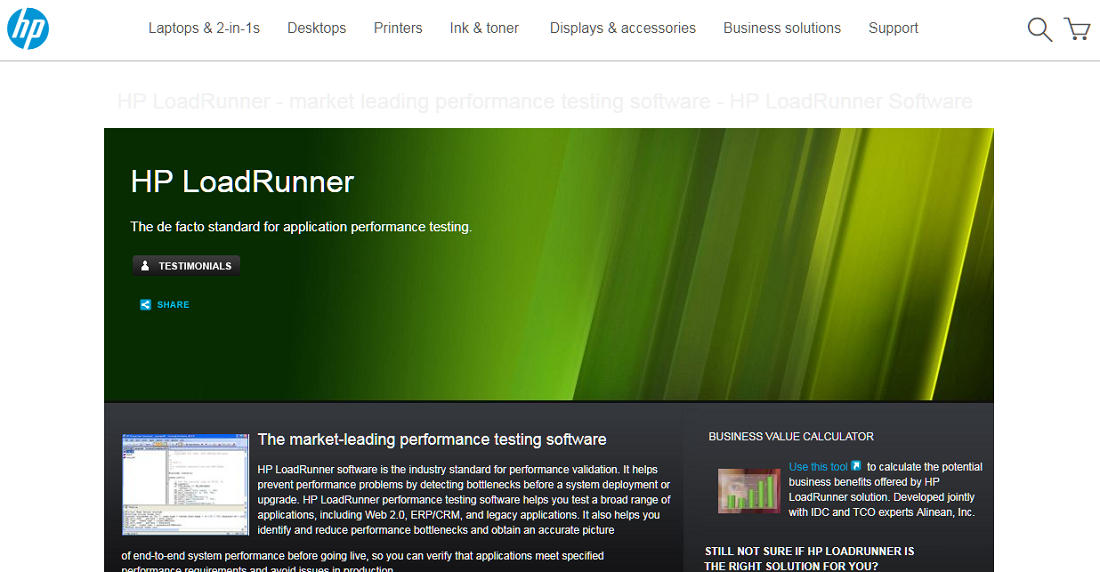 The main benefits of HP Loadrunner are it accurately identifies issues, it can emulate users for the systems, it's scalable and easy to use, and it can test online systems. Here's more information about the software's benefits:
Accurately identify issues
Users can view the application's entire performance through HP Loadrunner's accurate and full-system image. This enables you to immediately detect bottleneck issues and other problems in the system so you can fix them before the application goes live. With this, developers can ensure and check the new application they're making or the upgrade they're going to implement to see if it has properly met the set performance requirements.
Can emulate users for the system
HP Loadrunner has the capability of emulating hundreds or even thousands of users, simultaneously utilizing the application being tested. The users will have an environment for their system that simulates the difficulties encountered related to what users encounter in real life. Throughout the entire process, HP Loadrunner collects information from the database servers, web servers, and other sections of key infrastructure. The results gathered undergoes a detailed analysis so that the triggers and causes of a particular behavior can be identified.
Scalable and easy to use
Developers can use HP Loadrunner to run and test a wide selection of applications such as mobile apps, Ajax, Flex, HTML5, GWT, .NET, Silverlight, Java, Citrix, ERP and CRM, SOAP, and legacy apps. Testing applications with Loadrunner is simple and users can easily gauge every aspect of mobiles apps. This makes HP Loadrunner a great choice as an application loading system for running tests on the backend, network, or device level.
Can test online systems
Cloud-based applications can be tested with HP Loadrunner as well. Loadrunner has the capability to run seamlessly and quickly. It can also realistically test loads, including those from different geographic locations. This is achieved by scaling the load testing of websites up and down, which is a replication of the business application's requirements.