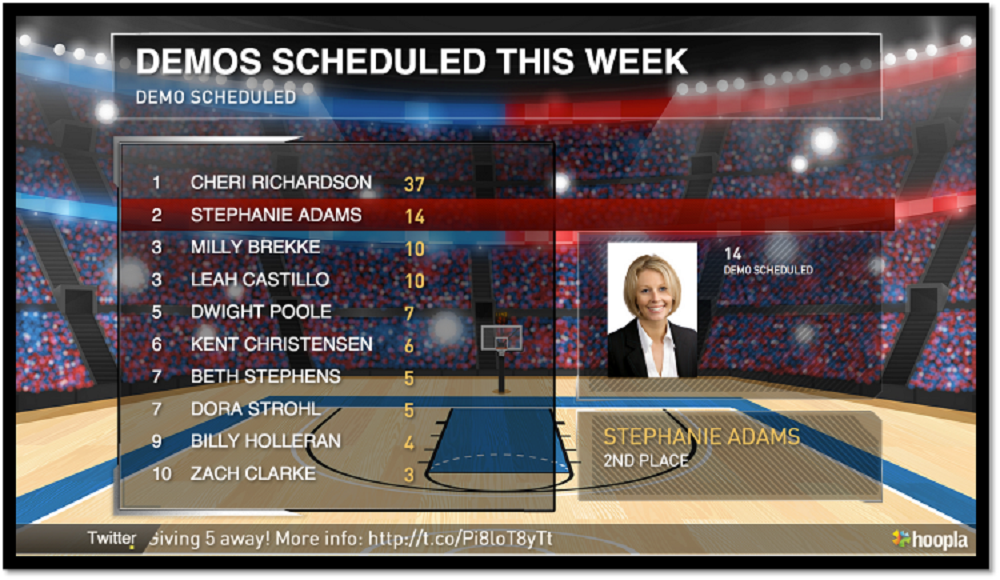 The main benefits of Hoopla are its gamification of various events that makes employees more productive, live broadcasts of data to engage and motivate the workforce, and the significant and evident improvement in the performance of the staffs. Here are more details:
Instill productive culture in the company
Hoopla aids organizations in energizing them by creating a certain culture based on winning. Its gamification system can easily urge workers to perform their best at all times for every opportunity they get. Businesses are easily able to make a play to win culture within them through gamification. Using friendly competition combined with the desire to be a better performer inspires a competitive spirit to bloom within each worker, making them more motivated, engaged, and part of a high-performing workforce.
Real-time broadcasts of data
Any screen, be it TV, mobile, etc., can be used to broadcast real-time data such as leaderboards. This enhances engagement and communication of the workforce. Managers can also easily collect real-time data, challenges, news feeds, announcements, recognitions, and triggered events to build a great team that can perform on overdrive.
Offers measurable and significant gains performance improvement
Hoopla is capable of quick and easy launching of competitions, contests, and leaderboards using CRM metrics as bases. Live information based on them is broadcasted throughout the organization via mobile, web, or TV screens. This real-time broadcasts and the system's dynamic structure takes the company into an exciting competitive, hence highly productive, play-to-win culture. Significant performance improvements can be observed by companies because of this.