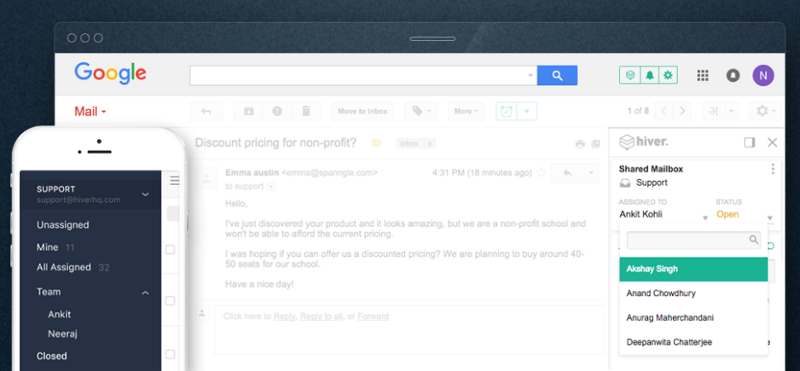 Enables Cost-Effective Collaboration
Hiver is a business software that makes collaboration robust and simple for your team without your company needing to shell out a big sum for a custom platform or an out-of-the-box solution. All you need is a Gmail account to perform top notch customer support, manage your daily operations efficiently, hire individuals and teams, and handle tasks right from the familiar Gmail inbox interface.
Useful Shared Inbox
Hiver enables you to manage shared inboxes from your Gmail account. You can organize your emails and assign them to the right team members for appropriate follow-ups. From the shared inbox, you can easily view all your emails, delegate work to your teammates, track their progress, and mark the emails completed after they are resolved.
Shared Notes and Templates
Hiver enables your team to collaborate and communicate effectively by allowing them to jot down notes on email conversations. Your teammates can share these notes to provide suggestions, ideas, and added details to assist other staff members do their work efficiently. In addition, Hiver reviews indicate that the system offers reusable email templates that you can share with your team. Write them one-time and then reuse them whenever you want.
Share Your Contact Groups
Hiver allows you to share your contact groups. In addition, alterations made to the contact profiles are immediately updated. On top of that, you can share templates, schedule your emails, and set reminders so that emails show up later on the designated date.