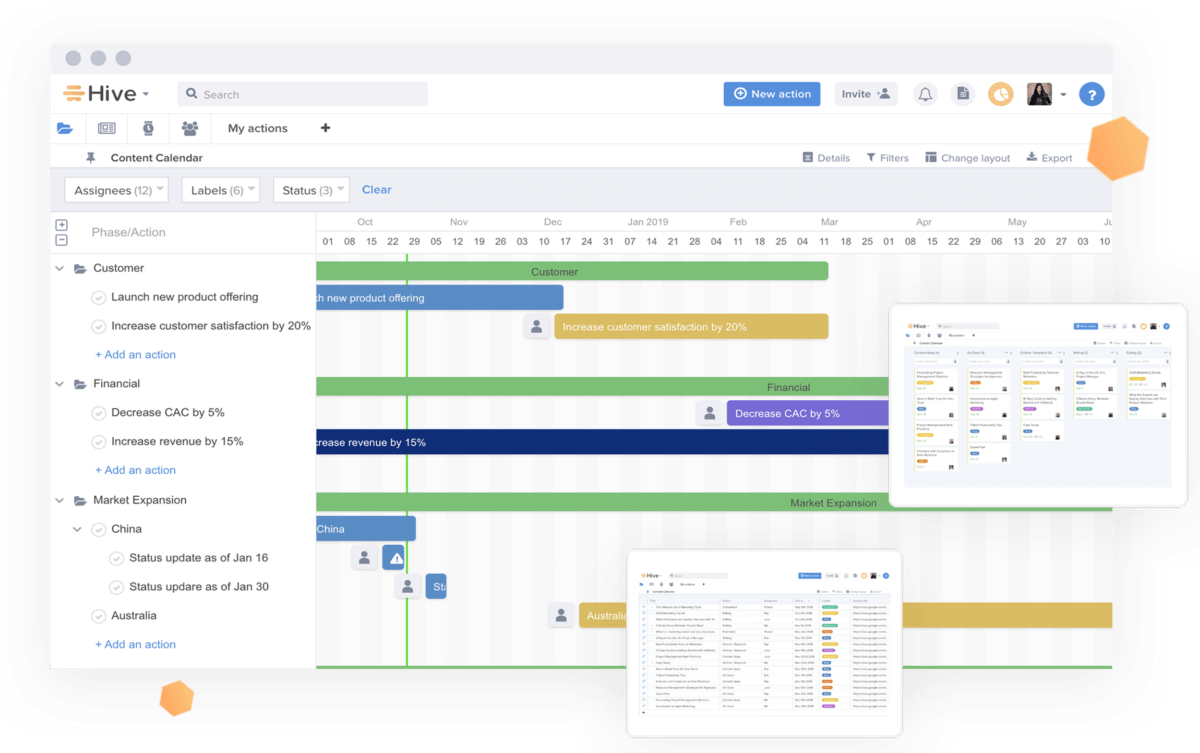 The main benefits of Hive are boosting project flexibility, automating with action templates, ensuring task completion, organizing projects, improving communication, streamlining file sharing, and gaining insights with predictive analytics. Check out Hive's benefits below:
Boost Project Flexibility
The software is flexible enough to accommodate whatever planning protocols a team may have – whether it is Kanban boards, Gantt charts, or calendar applications. Updates are reflected on all project views so no team member gets left behind.
Automate Using Action Templates
Action templates also automate repetitive tasks. Simply lay out all the steps needed to accomplish a task in an action template, which can then be reused for task reassignment.
Ensure Task Completion
All information needed to accomplish a task can be viewed by assigning members, attaching files, creating sub-actions, and setting dependencies using action cards. Members can track the progress of a project and have others do the same through comments and mentions. The tool also allows for multiple views, so users have the option to view a project either by labels, team member, or current status. Managers looking for a big picture of multiple projects can also use the summary view.
Organize Projects
To-do lists can be created on Hive. Users can also view all assignments across projects and their due dates simply by compiling them into a list. Data relevant to a project can also be collected with forms that come with Hive, which can be sent out to customers.
Improve Communication and File Sharing
Hive encourages communication within the team with its messaging feature. Individuals or groups can directly converse with each other using the feature, which can also be integrated to Slack, Zoom, and other third-party apps. Those who need to share files can integrate the app with a Google Drive, Box, or Dropbox account.
Use Predictive Analytics to Gain Insights
Machine learning capabilities are built into the interactive dashboards of Hive Analytics, which can then be used to discover the weak and strong points of the team workflow. Activities that cause a slump in productivity among the team can also be identified, as well as inefficient parts of the team workflow. Meanwhile, overbooking, late projects, and other complications are avoided thanks to real-time notifications, which keeps all members apprised of any productivity problems encountered.