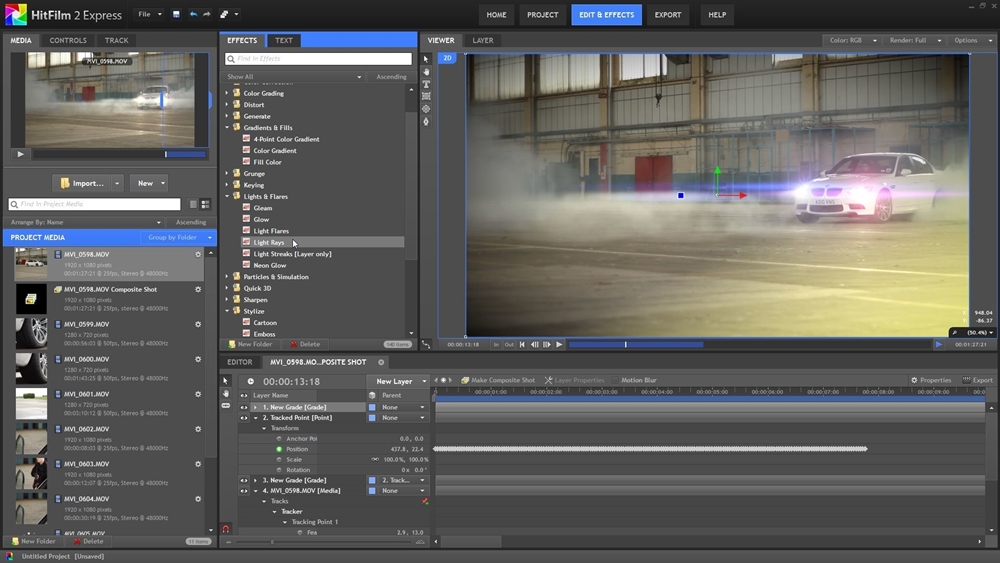 The main benefits of HitFilm Express are advanced tracking and screen simulation, sky replacement tool, masking and layering tools, 3D models, and sci-fi visual effects. Here are the details:

Advanced Tracking And Screen Simulation
One of the advanced features users will appreciate is how HitFilm Express allows users to track the movement of objects in the videos. This is important because once users can track how these objects move, they can add new objects that follow the same trajectory. This feature can be used to replace device or gadget interfaces present in movies, with the new interface following the motion of those devices.

Sky Replacement Tool
With HitFilm Express, users can change the backdrop of scenes to make it as dramatic as the scene calls for. Dubbed the sky replacement tool, the tutorial on how to create Westworld-style scenes and effects shows how to use this tool.

Masking And Layering Technique
Scenes with a massive battalion of characters, like the Stormtrooper Army in Star Wars: Rebellion, can be easily created with HitFilm Express' masking and layering tools. In just a matter of minutes, users can duplicate as many actors as they need.

3D Models
Another feature sure to be appreciated by users is how HitFilm Express can animate 3D models. Once users import their 3D models, they can produce and animate them like Star Wars' All Terrain Armored Transport or AT-AT walkers.

Sci-Fi Visual Effects
Iron Man is an iconic film that kickstarted the Marvel Cinematic Universe, and HitFilm Express allows users to recreate Iron Man's HUD (heads-up display) with specific lighting and framing. Even better, they can come up with their own version of it. The muzzle flash and portal effects also allow users to animate weapons that can result in dazzling sci-fi action sequences.