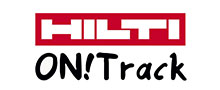 The main benefits of Hilti ON!Track are its accessible tools and equipment, barcode scanning system, and onsite consultation. Here are the specifics:
Accessible Tools and Equipment
Hilti ON!Track is intended to make critical data readily available for construction experts. The system offers complete visibility and clarity of their assets, their locations, the users, and time for repair and maintenance of these assets. With this ability, clients are guaranteed that they can get their assets where they need them to be, giving them the chance to save expenses and make their business reliably gainful.
Barcode Scanning System
Hilti ON!Track uses RFID or barcode scanning system to track and manage assets efficiently. This system permits construction experts and field staff to scan barcode tag as they check in and out tools from a job site or warehouse. They will almost certainly do this effortlessly because Hilti ON!Track gives a mobile application that can scan barcodes.
Onsite Consultation
Before you use Hilti ON!Track for your operation, you will have to sit first with customer support and the vendor's team for an onsite consultation. From there, your business processes and existing equipment are analyzed. You are allowed to choose which of your workers are approved to register and process your equipment and tools in the system.
Asset Tagging and Registering
With Hilti ON!Track, tagging assets is easy. The vendor deploys a team of field employees onsite to support you in tagging your equipment and tools. They help you put tags on your assets and assist you in registering tagged assets to your system. And once the data is uploaded, you can immediately access it through web browser anytime, without the need to install the software on your PC.