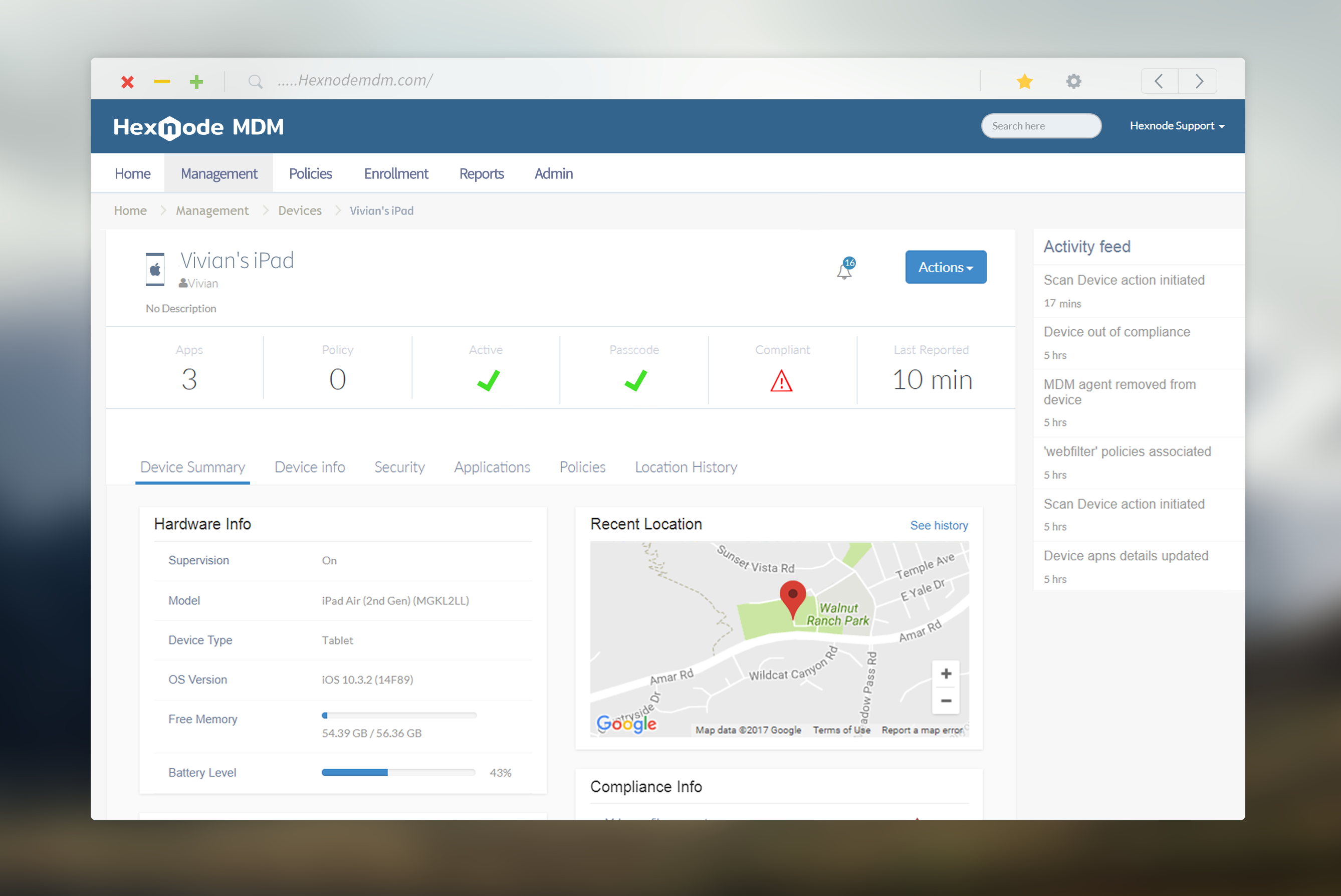 The main benefits of Hexnode MDM are its powerful mobile device management features packaged in an intuitive user interface. When used intelligently, it can help organizations save time and effort plus streamline productivity. When these are accomplished, they easily translate to higher profitability. Below are some of the beneficial features that come with Hexnode MDM.
Mobile device enrollment is flexible and easy. There are multiple ways to do it and all are a breeze. One way to do it is by server URL where you bypass the tedious authentication process. One only needs to access a server URL and voila, their mobile devices are enrolled. Another way to do it is via a QR code. Just scan a generated code and the mobile device will be enrolled. No more entering the server name, username, or password. There is also the Active Directory system where one-time passwords are issued. These can be sent to multiple users and this is what makes it convenient.
These are all made easy for the users because of the user-centric design ethos that Hexnode MDM is built around on. The platform focuses more on managing users first over the technical things in devices. The latter is taken care of but usability and practicality are first and foremost. Administrators are thus allowed to create custom policies based on their organizational needs and context. These then can be applied to users and their mobile devices. Additionally, Hexnode MDM allows for remote control. Device settings can be tweaked remotely and even passcodes cleared when users have been locked out of their devices. It even allows users to install apps remotely.
Productivity is a balance of active policies on capabilities and restrictions. The Kiosk Mode is the balance to all capabilities that can be accessed by a user. On Kiosk mode devices can be restricted to only run whitelisted apps, a single app or just perform one singular task. Accessible URLs can also be set. Plus, when set to Kiosk mode, devices are safer. Furthermore, Hexnode MDM has location tracking capability. In this way, administrators and users will have insights about usage. This feature also allows behavior issues to be fixed as restrictions can be set using custom preferences.
Moreover, there is also an expense management feature. This lets organizations monitor data usage and communication histories. Knowing these, policies can be made to reduce costs. The monitoring is done at the user level which makes it very accurate. Duration, dates, locations, names, and phone numbers are gathered by the system. Reports are then generated from them for actionable insights. Policies can also be made and executed in the Hexnode MDM. Administrators can set limits data or WiFi usage for non-work activities. Furthermore, data usage can be controlled at the level of apps.