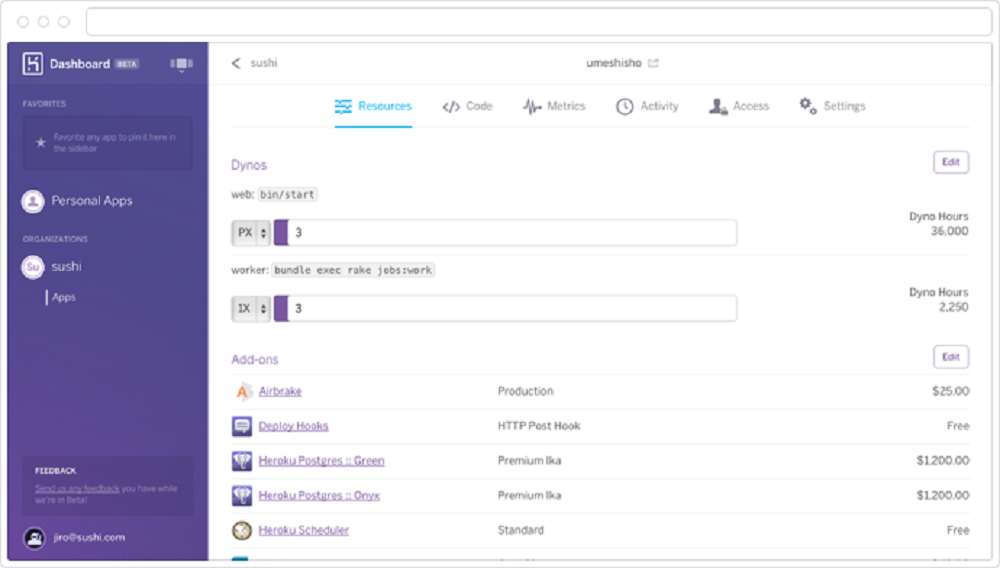 The main benefits of Heroku are its end-to-end Platform as a Service (PaaS), an unparalleled ecosystem that boosts application development, incredible Developer Experience (DX) module, Operational Experience (OpEx) Module, and the innovative Heroku module. Here are more details:
End-to-end Platform as a Service (PaaS)
This allows businesses and developers to innovate in the fastest way possible and develop with modern architecture. The software also scales to meet the growing needs of an organization.
Unparalleled Ecosystem
The software boosts application development with its unmatched ecosystem that contains more than 3000 ready-to-deploy buttons, over 1000 open-source buildpacks, and 150 third-party add-ons. It also features an element marketplace that provides easy-to-integrate technical solutions that help developers streamline their app development workflow.
Developer Experience (DX) Module
This feature allows developers to concentrate on what matters most in app development. It offers an app-centric technique to the delivery of software. Moreover, it enables developers to use the intuitive web-based dashboard that simplifies app management and provides more visibility into the performance of the app.
Operational Experience (OpEx) Module
Another notable functionality of Heroku is the OpEx module. This feature makes ensuring an app's health easier. It allows developers to pinpoint any occurring issue that is affecting the app's health and resolve it immediately. Additionally, the platform offers powerful tools that enable users to automatically boost the web dynos when it fails to respond to alerts within the stipulated threshold.
Innovative Heroku Runtime
This module allows developers to run applications in smart containers easier while empowering them to deploy code written in custom language buildpacks to establish systems which generate ready-to-deploy apps. The system and the language stacks are persistently updated, monitored, and patched to guarantee that they are always up-to-date and ready.