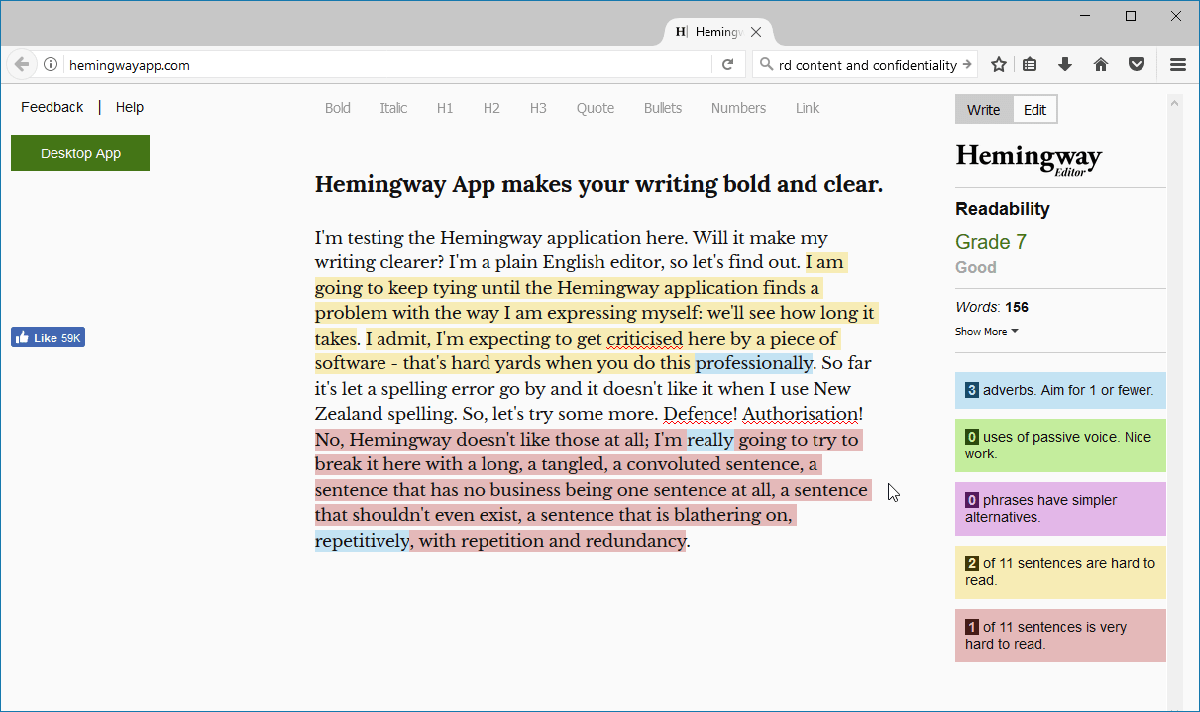 The main benefits of Hemingway Editor are its ease of use and stable functionalities. Here are the details:
Detect Level of Errors Through Color Coding
When your composition contains issues, Hemingway Editor will instantly highlight them so you will see which part needs improvement. The app uses color coding so you will detect the level of error in the composition. When you see a yellow highlight in some parts of your texts, it means your composed phrase is hard to read.
Develop Yourls Writing Style
Nobody wants to create a write-up that is jam-packed with grammar errors. That is why Hemingway Editor is designed to help you improve your writing style. The app can help you remove your complex words and phrases, create concise and clear sentences, and ensure that your sentences are flowing smoothly.
Detect Hard To Read Sentences
Long and hard-to-read sentences can be identified easily using Hemingway Editor. These kinds of sentences are highlighted in red. For complex words and phrases, the app uses purple highlight to show their presence. To correct he complex compositions,  you can either replace them or follow the app's suggested alternatives.
Determine Passive Voice and Adverbs
Adverbs can undoubtedly weaken the verbs you modify. But don't worry, the app will help you eliminate them or improve your sentence by suggesting you alternatives. Adverbs will be highlighted in blue and the passive voice in green.
Say Goodbye to Copy-Pasting Between Used Text Editors
Hemingway Editor lets you import your texts from one text editor to another so you don't need to copy and paste them when you need to edit your work. When you're done editing and revising using Hemingway Editor, your texts will then be exported as Word or PDF file.
Easily Publish Your Finished Work to a Web page
From the app, you can publish your work easily to WordPress or Medium, be it a draft or a live post. You can even import the texts as HTML so you can publish them to web pages or any blogging platforms.