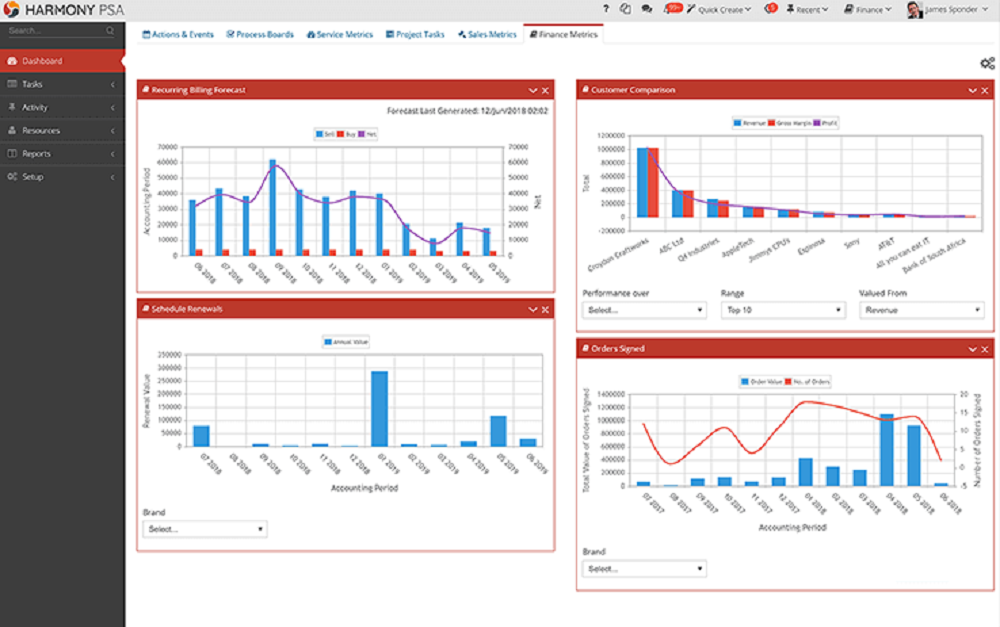 The main benefits of HarmonyPSA are its wide range of functionalities, commercial modeling core, profitability reporting, and support for the multis. Here are more details:
All-in-one Business Solution
From lead or campaign management through to management of cash, the platform has everything you need and you can access it on any device with a browser anywhere you are. One notable aspect is that its desk functionality is configurable, fully integrated, and interconnected to other aspects of the customer's business including but not limited to asset management, SLA performance reporting, and off-contract reporting.
Commercial Modelling
HarmonyPSA's product engine enables users to build products as well as product bundles that consist of all their accounting and contact behaviors as well as attributes. This commercial modeling core ensures that you are always clear contractually. Also, it allows straight-through processing, automates back-office processes, and helps you maintain accuracy, eliminate errors, and save time. Harmony's products' self-describing nature is also notable. It enables the system to automatically and correctly manage the deferred revenue as well as prepayment aspects of the user's P&L. Moreover, the platform comes with a universal journal interface that allows users to export journals to any system that also features a journal import function.
Profitability Reporting
The platform offers precise profitability reporting that comes with transaction-level information, ensuring seamless and complete visibility of the entire business down to contract-level performance.
Supports Multis
HarmonyPSA offers you tools to go global but still act locally. With this platform, you can operate in a multi-legal entity, multi-jurisdiction, multi-time zone, multi-brand, and multi-currency manner easily in a cost-effective manner. The multi-currency support is typically found in huge enterprise software that costs six figures but you can access and take advantage of it in this application. The multi-currency support is not at a superficial invoice level only but throughout the database. The software saves every financial value in potential group consolidation currency, base currency, and transaction currency.