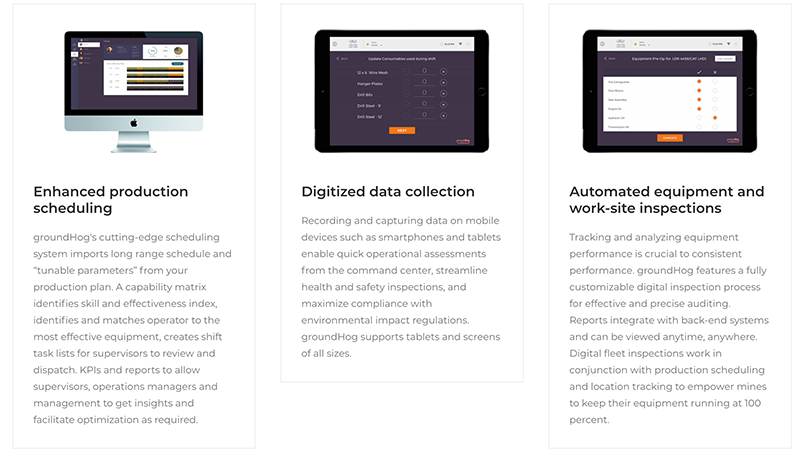 To start, supervisors and managers can easily create schedules for all mine operators using the command center or the application's command mobile companion. After creating the schedules, they can transmit them to operators' devices. The solution utilizes robust short interval control systems that enable you to transmit schedules as per mine operator shifts.
Operators can view their shift schedule on their device, start working, and update their progress on the platform. Supervisors and managers can get actionable data and insights from the robust dashboards and can easily track work progress from the command center. They can also utilize the software's command mobile companion to get real-time updates on specific tasks.
groundHog utilizes an advanced scheduling system that imports tunable parameters and long range schedule from  your production plan. On top of that, a capability index spots skill and effectiveness, matches operator to the most effective tools, and creates shift task lists that supervisors can view and send. In addition, management, operations managers, and supervisors can utilize the reports and KPIs to gain insights and improve optimization.
groundHog uses real-time location tracking technology to track the correct location of equipment. This helps to optimize current shifts and schedule future ones. The real-time location tracking system integrates with the production scheduling and control platform to improve work efficiency.
Finally, groundHog's advanced intelligence and analytics tools integrate outputs generated from infrastructure and equipment to deliver actionable insights. The smart analytics tools simplify complicated data and present easy-to-understand data for miners. The analytics tools use machine learning technology to learn about your mine and help to dispatch renewed schedules in case there are disturbances in operations to ensure maximum production.