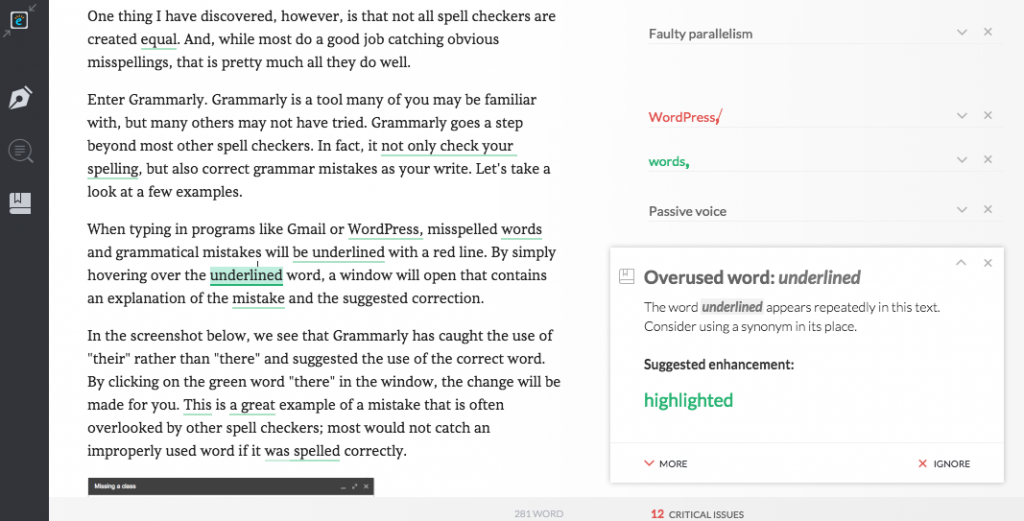 The main benefits of using Grammarly is that everyone can improve their writing styles and make write-ups more appealing and effective.  Here are the benefits of Grammarly in details:
Grammarly stands out among other spelling and grammar checkers because it goes beyond merely correcting basic errors. The tool also helps with contextual issues and helps to boost your knowledge as well as construction of the English language. In our Grammarly reviews, we found out more benefits to this software.
Grammarly can identify and fix even small expression mistakes that are often overlooked by other tools. This application has been developed by passionate experts and linguists, and it studies minute details and fixes comma splice, comma usage, misspelled words, and repetitive words. On top of that, it provides robust suggestions to replace weak adjectives. In this manner, the tool helps you to become a confident writer and focus on creating engaging and effective messages.
As mentioned earlier, Grammarly is a not a mere corrector of basic mistakes. It also helps to improve your writing style by helping you memorize its suggestions and additions. The application makes this happen by taking charge of complete context change, all elements of subject-word agreement, and modifier placement. The best part is you can easily integrate it with any common Word processor and utilize it to improve your social media posts and email messages.
You can easily add Grammarly to Firefox and Google Chrome. Plus, it is compatible with all popular devices, operating systems, and word processors. Contact the vendor's expert support team to learn how to maximize the system, or become a member of the 10 million-strong user community to share your feedback and experience. You can find more information about this solution in the Grammarly review here.