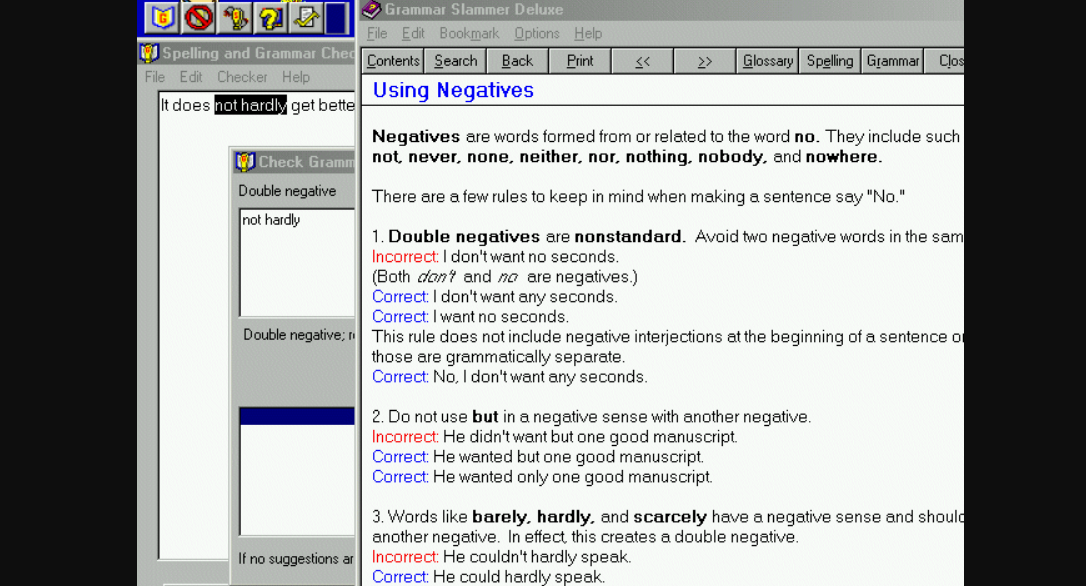 The main benefits of Grammar Slammer are its cost-effectiveness, reliable grammar and spell checks, and seamless integration with MS Word. Here are more details:
Cost-Effectiveness
Grammar Slammer is a highly rated software that is designed with all writers in mind. The solution enables writers to create error-free content, without having to spend a lump sum. It is pocket-friendly, which gives the new and seasoned writer a peace of mind knowing that they are acquiring a proven software.
Reliable Grammar and Spell Check
Also, it has a robust English grammar check tool. The tool enables writers to gain a profound understanding of syntax and grammar rules in English. It points out grammar mistakes and offers justifications as to why the written content is erroneous. Besides, the solution comes with a comprehensive reference of grammar rules which enables users to confirm if they are observing all the rules.
Better still, Grammar Slammer comes with a reliable spelling check functionality. The functionality enables writers to utilize the ideal spelling style (British or American) and ensure the words in all write-ups are correctly spelled.
Seamless Integration with MS Word
Moreover, Grammar Slammer integrates seamlessly with Microsoft Word. It enhances the native grammar and spelling checkers found in Word processors. With Grammar Slammer, writers gain more insights and confidence knowing they can use the software together with their favorite Word processors.