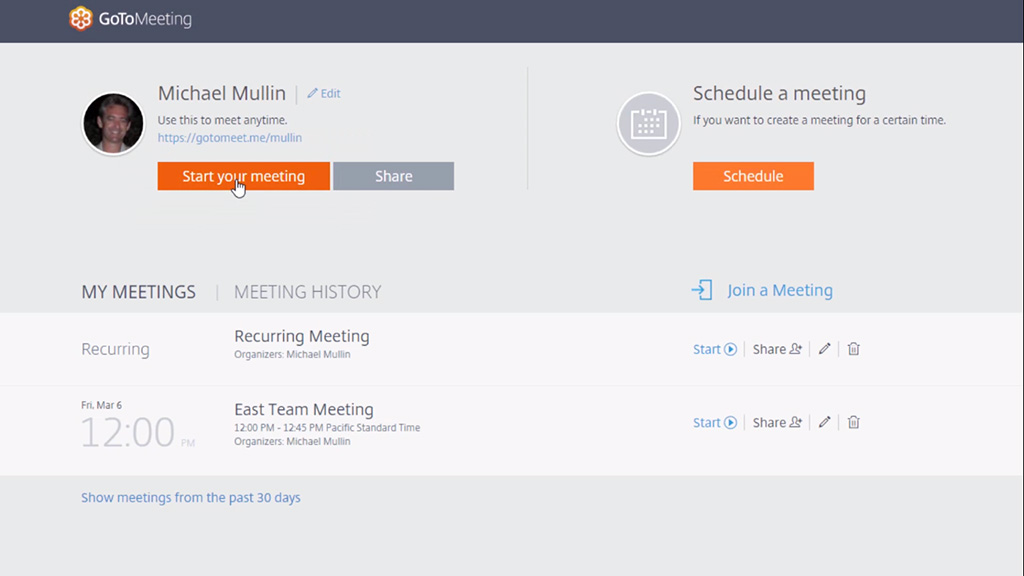 The main benefits of GoToMeeting are ease of use, affordability, user flexibility, and security. Businesses prefer using GoToMeeting for their web and video conferencing needs because of its affordability and robustness. It provides users with functionality and ease of use just like other software. However, it differs because of its reasonable price. When users think of creating or joining a meeting online, they can easily do it with this software. Just like other solutions from Citrix, this tool offers reliable client support and record uptime.
Users can seamlessly initiate an online conference using the software's user-friendly interface. And with it, they can also provide participants with a customized URL so they can join the meeting. The software gives every user flexibility to access online conference rooms even if they are on the go. Apart from that, GoToMeeting can be accessed using different devices, including Android, iOS, Mac, and PC, meaning there's no need for them to search for a specific and compatible device just to join meetings.
With features like multi-national toll-free numbers, this software is reliable in gathering international participants and tackling matters with them. It has PIN-based entry, making this software more secure. This PIN should be entered by the participants before they can join the meeting, something that is not available on many web conferencing software. This gives everyone a feeling of security when joining a meeting. Meanwhile, GoToMeeting also offers channels for support and learning materials, including training videos, PDF guides, live training, and training videos.