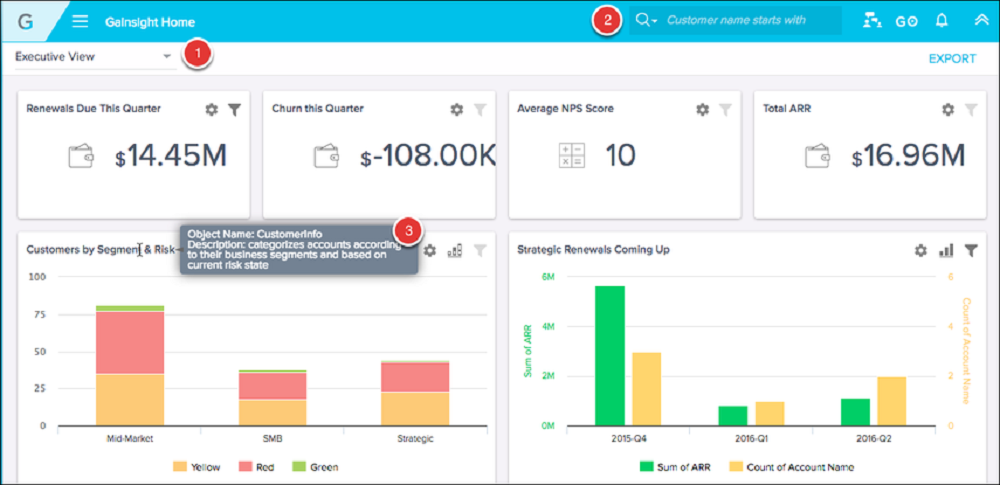 The main benefits of Gainsight are improving customer experience, providing relevant customer data, and automating several communication processes. Here are more details:
Improves customer experience
Gainsight helps businesses decrease the chances of customer churn through its customer scoring tool, which can track key engagement metrics. The system is capable of identifying a missing opportunity by determining power users and users at risk. It can also help businesses comprehend the key performance indicators of users' buying behavior.
Provides relevant customer data
The platform provides an Insight feature where data sources can be centralized to gain a complete 360-degree view of customers' profiles and measure their general health. Businesses can also monitor the usage of products and services at account-level and enable real-time behavior to drive successful customer interactions. The platform can also perform NPS surveys, sponsor tracking, and customer messaging that allow interaction of companies with their clients throughout the entire customer journey.
Automates several communication processes
Gainsight contains an Outcome module that features Playbooks. This is a set of tools that bring proactive alerts which could enable users to determine the step-by-step response that they must implement. Users can also set sending of emails and review undertakings into autopilot by placing triggering mechanisms to the system.